Angel Oak Cafe
Southern Fried Chicken, we had heard about it but not until today had we tried it. WOW is all we can say. As we have driven along most of the southern states in the last four weeks we head into South Carolina on our way to Charleston. Stopping at a visitors centre to find out information about local plantations, Carolyn also asked about places to go for traditional southern food. The kind gentlemen behind the counter recommended Angel Oak Cafe as the best around. Less than 3 kilometres up the road. We thanked him for his information and decided to try the Angel Oak Cafe. So, into the car we hopped and drove up the road, unfortunately we missed the sign. However, we made a U-turn and we were back there in a flash parking the car.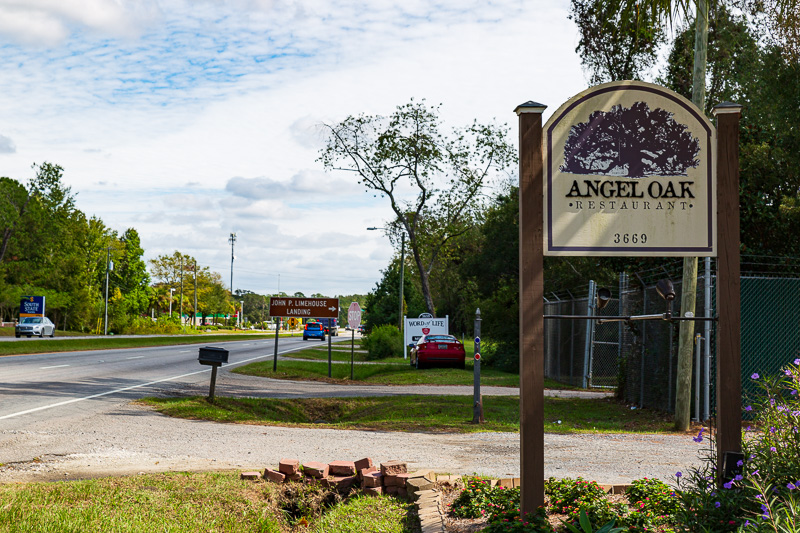 Angel Oak Cafe Impressions
Parking the car, we realised how full the carpark is, that is usually a good sign (although not always). The outside of the café had tables with umbrellas and chairs setup, although nobody was sitting in them.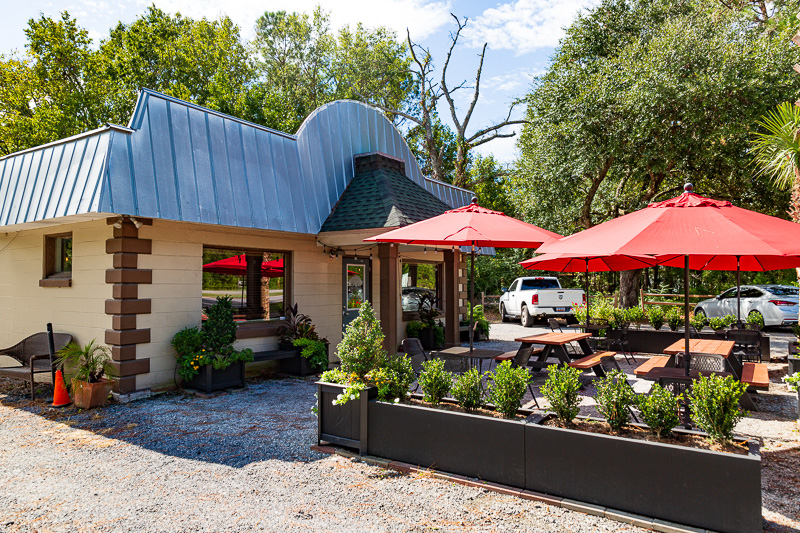 Walking through the front door we are greeted by a lovely lady and a very charming restaurant.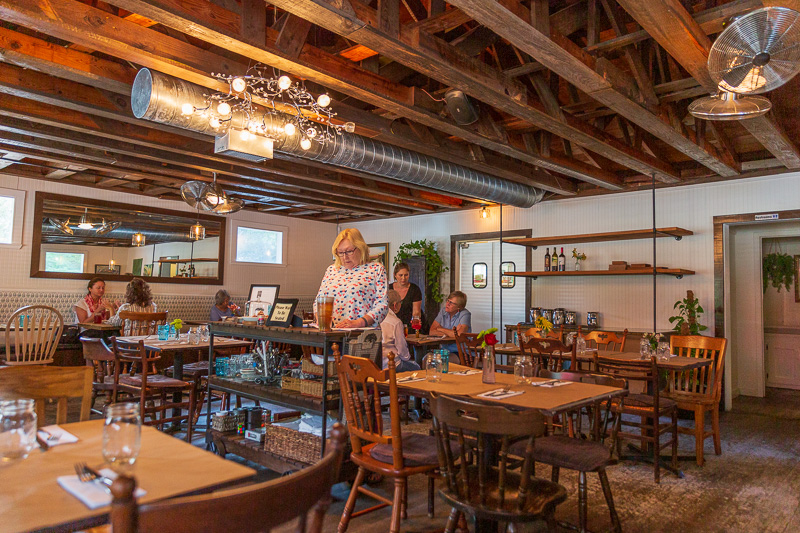 After a brief conversation we are shown to our table and supplied with a menu. Within a few moments our waitress introduced herself and explained all the specials and gave us some time to peruse the menu, while she went and filled our drinks order. On her arrival with our drinks we asked questions about the menu and were also given a small sample of grits to try. While the grits were ok, considering we had not tried them before, we decided to try the specialty of the Angel Oak Cafe the Fried Chicken.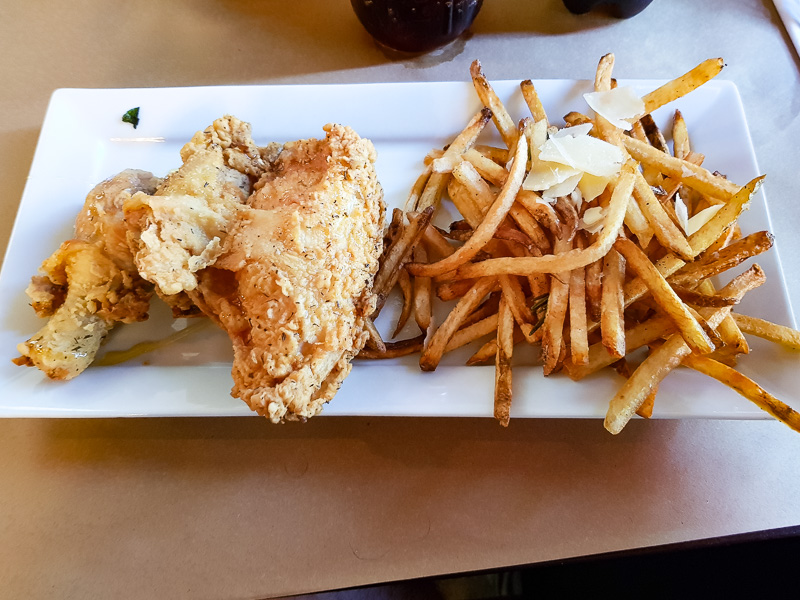 We both ordered the Fried Chicken, Carolyn order Potato Croquettes and a tomato and onion salad for her sides. While I ordered the Coleslaw and Parmesan Truffle Fries for my sides. Having been told everything is prepared and cooked fresh, it would be about a twenty-minute wait. The time passed quickly as we had some lovely conversations with both waitresses. The aromas from the kitchen were divine and then the moment of truth our meals were presented. They looked and smelt incredible but once we savoured that first bite of that Fried Chicken we were in bliss. The chicken was so tender and juicy, the outside batter was, "to die for". Light, tasty, not dripping with oil and sprinkled with local honey to give it a truly unique flavour. The sides were also delicious with special mention to the Potato Croquettes.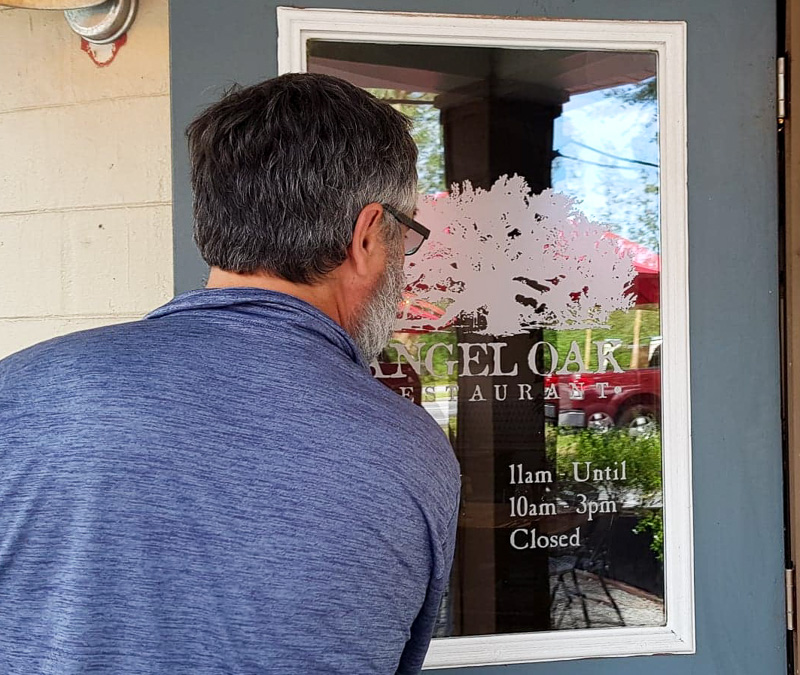 Angel Oak Cafe Desserts
But wait there's more!!! Having polished off the main meal our waitress informed us of the specialty dessert that was awaiting us if we chose to part take. After hearing the description from our waitress, I was hooked at the mention of fried and donuts in the same sentence 😊. Upon her delicious description we ordered one to share. Oh, how I wished we had ordered two. Carolyn loved them and of course so did I. The Beignets as they were called were light, fluffy and delectable. On completion of such an awesome meal, we were so thankful to both waitresses on such an incredible meal, and fantastic service. A meal that will be hard to beat for a while to come.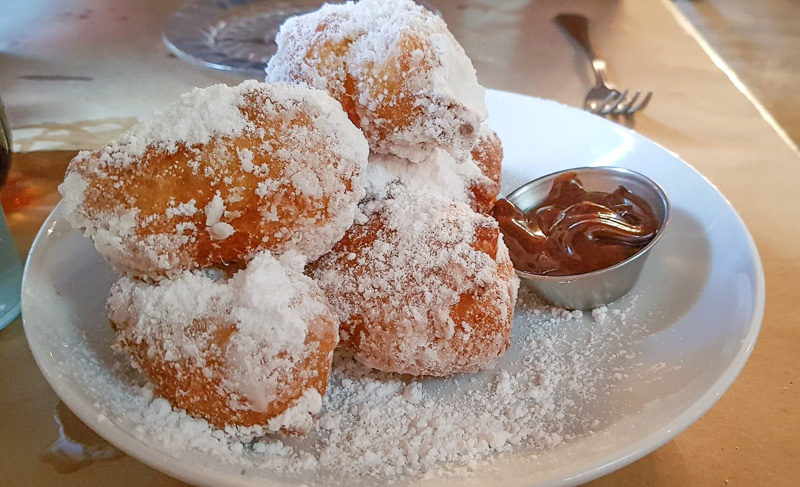 So, if you are in the vicinity of Johns Island South Carolina be sure to make a stop off at Angel Oak Cafe and savour the mouthwatering Fried Chicken and don't forget the Beignets for dessert you will not regret it. Thank you so much to Angel Oak Cafe and the two wonderful waitresses for an amazing culinary experience. Also, the impeccable service and hospitality you provided to us.
Food: *****
Service: *****
Value: *****
Awesomeness: *****
Location: 3669 Savannah Hwy, Johns Island, South Carolina
Phone: (843) 556-7525
Website: www.angeloakrestaurant.com
Join Us
We would love for you to follow our exciting journey by joining our friends list here on our website and following us on our social media pages below.
If you have any comments or questions we would love you to leave them below or email us.
Take care
Travel is Sweet (Dream It, Experience It, Treasure It)
Travel Tips
Find Your Flights
Skyscanner is a great tool for searching websites and airlines around the world to make sure you get the best available price possible.
Book Your Accommodation
Booking.com is our go to tool for booking hotels. It always gives us a large variety of hotels at great rates. We also use Airbnb as a wonderful alternative for those places you may want to go and live with the locals.
Always Get Travel Insurance
Travel insurance is a must and this is speaking from experience. Comprehensive protection will protect you against illness, injury, theft, accidents and cancellations. Just in case something goes wrong, heaven forbid. We never travel without it, having used it several times over the years. World Nomads have years of experience and knowledge to look after all your travel needs.
All images, photographs, and prints are exclusive property and may not be copied, downloaded, reproduced, transmitted, manipulated or used in any way without written permission of the photographer.
Disclosure: "Some of the links in this post are affiliate links. This means if you click on the link and purchase the item, I will receive an affiliate commission."
Please follow and like us: