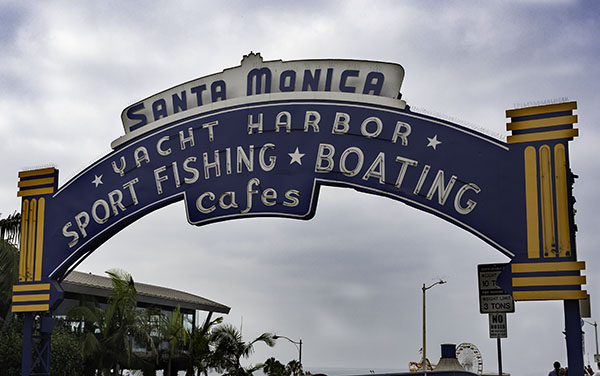 Santa Monica Pier
"What to do on our first full day in LA"? Do we travel into Hollywood, face the crowds at Disneyland or head north to Santa Monica Pier ? With no car and reliant on public transport, Santa Monica Pier was turning into the best option. With this in mind we search google, it appears that the R3 bus was the way to go. As a result, we headed off on the 1 kilometre walk to the closest bus stop. Arriving with 10 minutes to spare, we noticed the abundance of air traffic using LAX. Hence, accounting for the mountain of traffic in and out of the airport complex. Not to mention the temperature is on the rise! Stepping onto the bus we are welcomed by a cool wall of air. Very nice!!!
Thirty five minutes later we are stepping off the bus, 2 blocks from Santa Monica Pier. Instantly, the air has filled with humidity and continuing to rise reaching into the 30's C. Wandering down towards the Pier we pass a mall, note to self to come back and have a look. Arriving at the intersection of Colorado and Ocean Aves we are greeted by the iconic sign. Santa Monica Yacht Harbor Sports Fishing Boating Cafes, for this reason we have to take a picture.
History of Santa Monica Pier
Santa Monica Pier is a double jointed pier, the long narrow municipal pier was opened on September 9th, 1909. The shorter pier was built in 1916 and called the Pleasure Pier and housed the pier attractions. As a matter of fact the pier also, brings an end to the world renown Route 66 road from Chicago to Los Angeles. In 1922 the Carousel with 44 handed craved horses was built and in 1990 was rebuilt inside the Hippodrome. Not to mention, the pier has feature in multiple movies and television shows Forest Gump, Iron Man, Charlie's Angels as well as 90210 just to name a few. In the meantime for a comprehensive history of the Santa Monica Pier head to Wikipedia.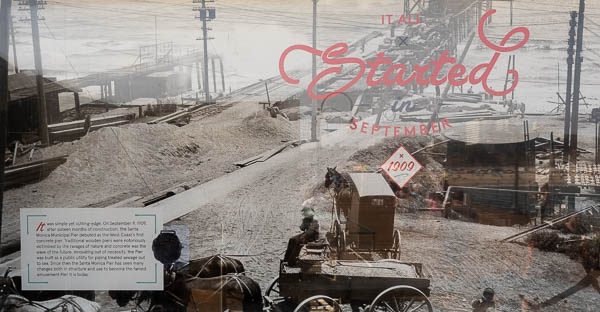 First Glimpse of The Pier
Crossing over the bridge we get our first glimpse of Santa Monica Pier, silhouetted by the blue of the Pacific Ocean and highlighted with the Ferris Wheel.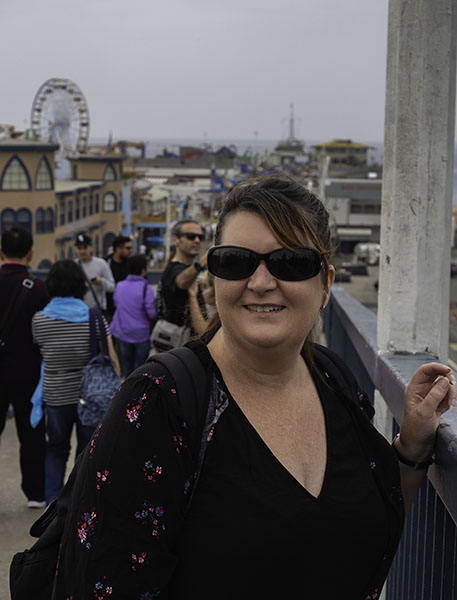 The Hippodrome is the first building we pass to the left, which holds the carousel within and also the starting point for the free walking tour. Finally, we leave the concrete bridge, the wooden planks now become our path as the pier starts. In the foreground we are greeted by the route 66 sign and picture taken, as per any good tourist.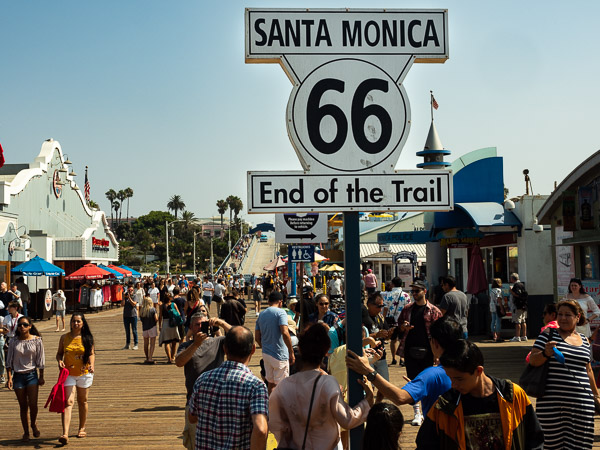 As a result of our early departure our bodies are now craving what else?………Coffee!!! and low and behold there is the shop with our fix. We now move purposefully head towards it, be careful if you are in our way as caffeine is yelling to us 😊. Those of you that know us, know what we are talking about. Order done, aroma wafting, heart beating quicker…why aren't they calling our name!!!! Then all of a sudden and with pure joy and elation that word is spoken Carolyn!! With a spring in our step we gather our coffees and guarding them as a dog with a bone. OK it maybe the caffeine talking here but we did enjoy our coffees sitting watching the waves roll in. Consequently our craving has been dealt with, for this reason we continue our journey along the pier.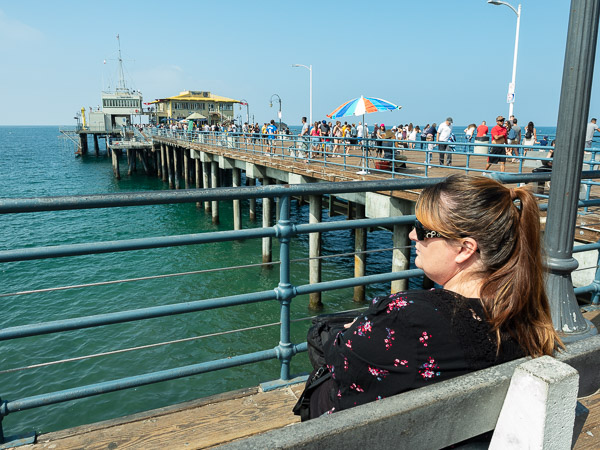 The Crowds
In the meantime the quiet pier is now a hype of people, noises and smell (food smells that is 😊). It is amazing to sit and people watch as they go about their own unique journey along the pier. Their reactions, facial expressions and dialogue on activities happening along the boardwalk are fascinating to watch. We have been so blessed to be able to have this time where the stresses of life and work are behind us for at least a year. For this reason we can take our time, soak up life in all its splendour. Walking along, the pier is dotted with little carts selling an array of souvenirs, food and clothing. Among them are a few talented performers sing and selling their wares.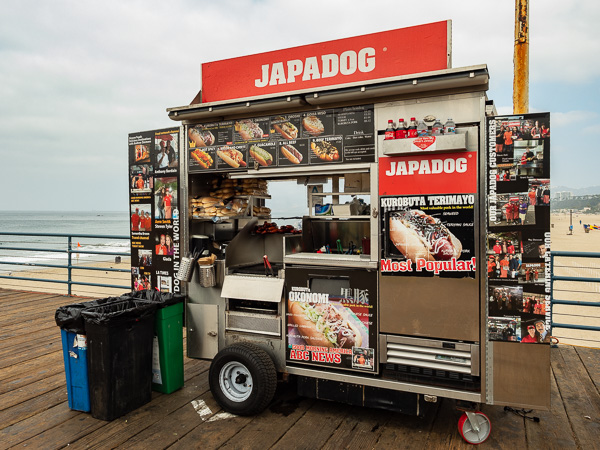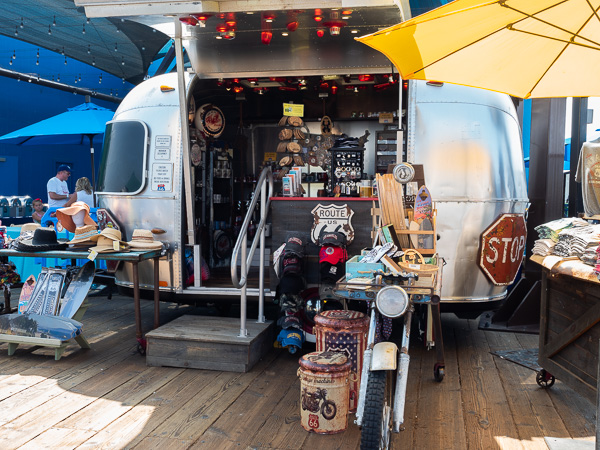 Arriving at the end of the pier we find a plethora of fishermen, rods baited and casted. Waiting for that one bite that leads to an epic story that grows year to year. Turning back, we get an amazing view of Santa Monica Pier, the beach and skyline. Walking back via the Ferris wheel, we see kids and adults enjoying the activities available in the amusement park.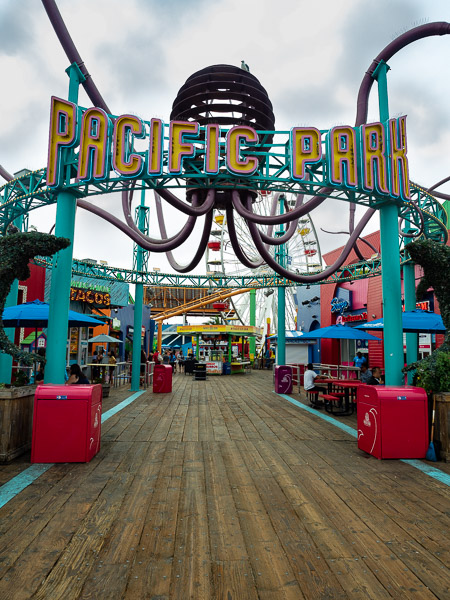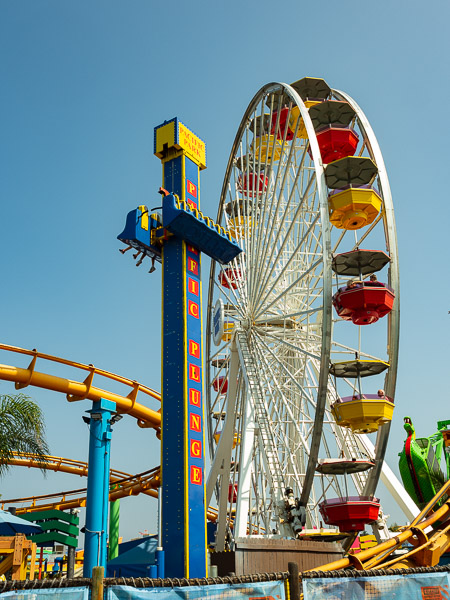 Smiling faces, screaming with delight while rocketing around on the roller coast, popping balls into the clown's mouth hoping to win a prize, a perfect day being had by all. Nearing the end of the pier, lunch time approaching we head for The Albright. Awaiting Carolyn is a clam chowder and sourdough bread. For me is a bowl of fries, some sour dough bread and 2 icy cold cokes gratefully accepted to satisfy our thirst.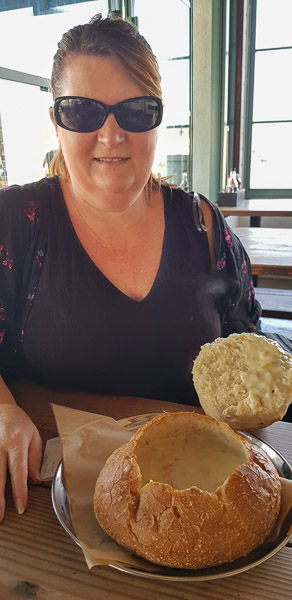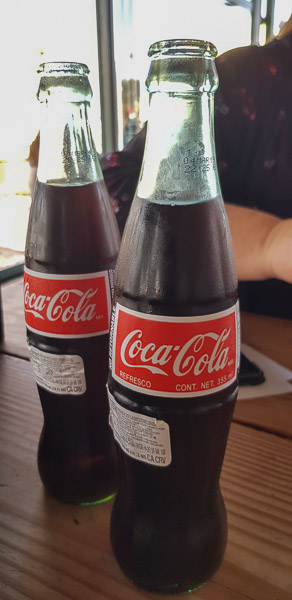 We bid farewell
Hungry pangs squashed we bid farewell to a wonderful time at Santa Monica Pier. The crowds have not abated, hence the walk back to the bus stop was a tad slow. In addition we are taking a detour through the shopping mall we had seen on the way in. High end shops litter the main section, however we have cruised up the mall which by now is in full swing being a Sunday.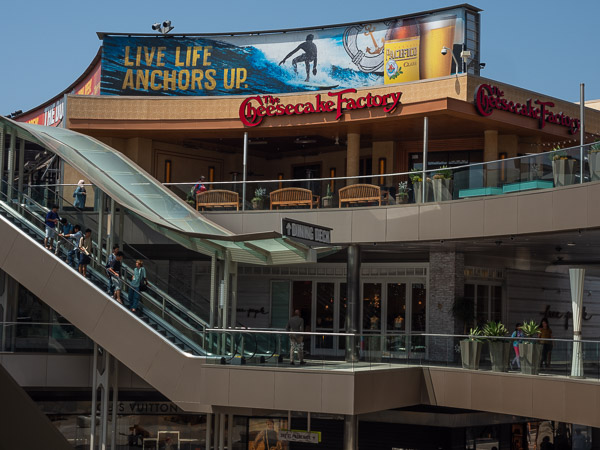 Lots of buskers filling the mall singing in the hope of stardom. Stopping at the end of the mall to take in the atmosphere, is a wonderful way to finish off a day at Santa Monica Pier. I highly recommend a visit to Santa Monica Pier if you every find yourself in Los Angeles. In conclusion it is a great day trip and has some amazing views, well worth the time.
If you have any comments or questions we would love you to leave them below or email us.
Take care
Andrew & Carolyn
Travel is Sweet (Dream It, Experience It, Treasure It)
Travel Tips
Find Your Flights
Skyscanner is a great tool for searching websites and airlines around the world to make sure you get the best available price possible.
Book Your Accommodation
Booking.com is our go to tool for booking hotels. It always gives us a large variety of hotels at great rates. We also use Airbnb as a wonderful alternative for those places you may want to go and live with the locals.
Always Get Travel Insurance
Travel insurance is a must and this is speaking from experience. Comprehensive protection will protect you against illness, injury, theft, accidents and cancellations. Just in case something goes wrong, heaven forbid. We never travel without it, having used it several times over the years. World Nomads have years of experience and knowledge to look after all your travel needs.
All images, photographs, and prints are exclusive property and may not be copied, downloaded, reproduced, transmitted, manipulated or used in any way without written permission of the photographer.
Disclosure: "Some of the links in this post are affiliate links. This means if you click on the link and purchase the item, I will receive an affiliate commission."