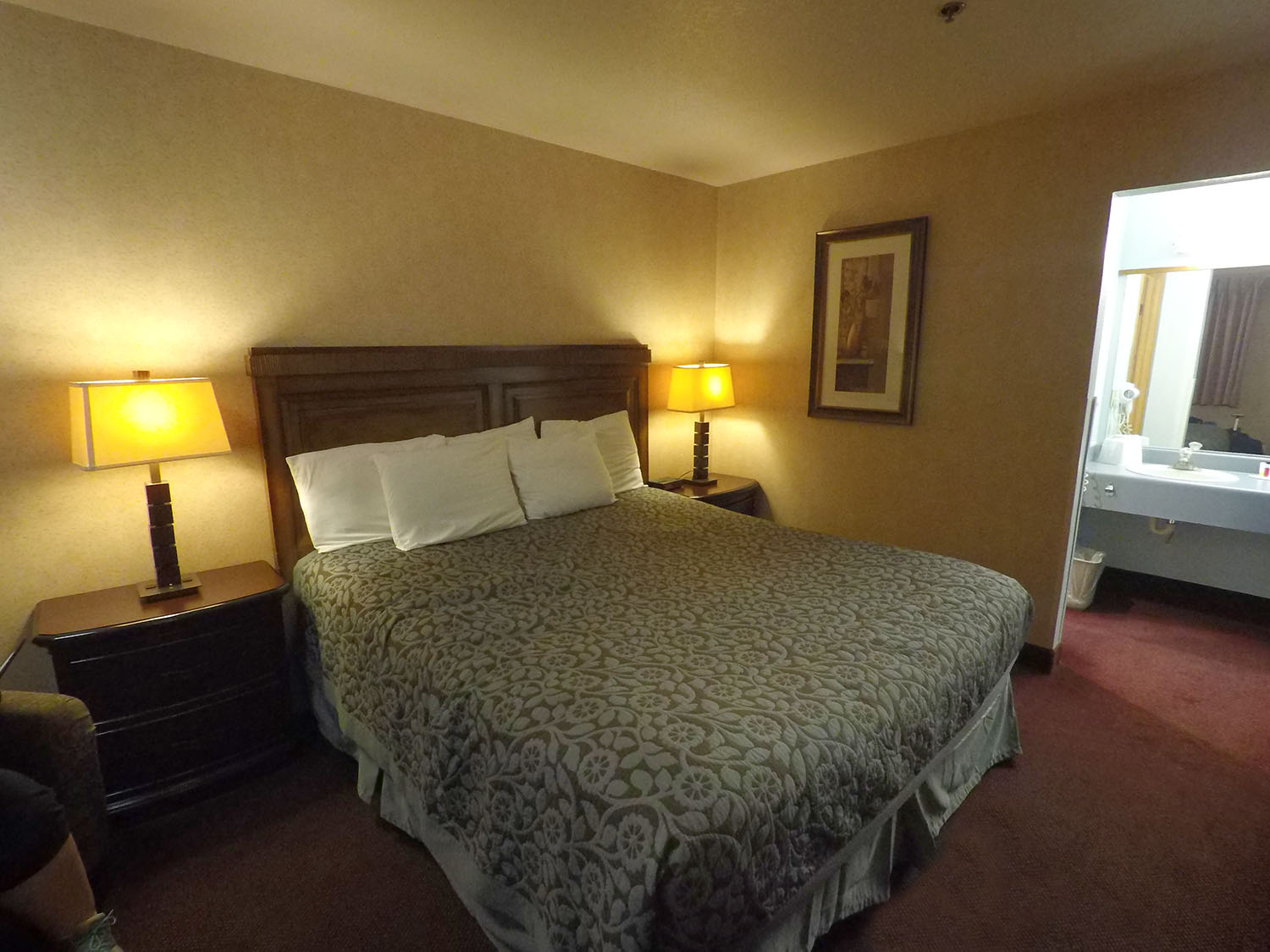 Days Inn Seattle South Tukwila
The Days Inn Seattle South Tukwila is situated 8.5 kilometres from SeaTac Airport and 17 kilometres to Downtown Seattle. We found this hotel to be suitable for our requirements, but it was not as close to the airport as we thought. The hotel room was very nice, clean and tidy though the WiFi wasn't working in the room. Public transport (the bus) into Seattle was about a 15 minute walk not a big deal because we were on holidays. We would stay here again if needed, but probably book a hotel either at the airport or in Seattle. For more information on Days Inn Seattle South Tukwila click here and for a map click on Google Maps.
Pros: Nice clean room, free shuttle to/from airport, large bed, soft bed, pillows ok, good water pressure, hot water lasted for both our showers, staff were friendly, had pool, free breakfast (pastries, waffles, toast, juice, tea coffee, fruit), free wifi in rooms (but didn't work), TV, clock, coffee maker, fridge, seat in room very comfortable. Good value for money.
Cons: No safe in room, staff were not helpful with directions or public transport directions, had to figure out how to  to get into Seattle by bus by ourselves, had a busy road next to hotel so had a bit of traffic noise but not enough to be a major concern. No usb connection to charge devices, free wifi wouldn't work, no pen or pad for writing notes, vending machine didn't give us our chosen snack and staff couldn't open it so we lost our money, which is frustrating late at night, when nothing else open to eat, and you are hungry.
Join Us
We would love for you to follow our exciting journey by joining our friends list here on our website and following us on our social media pages below.
If you have any comments or questions we would love you to leave them below or email us.
Take care
Travel is Sweet (Dream It, Experience It, Treasure It)
Home » Hotel Reviews » Days Inn Seattle South Tukwila
All images, photographs, and prints are exclusive property and may not be copied, downloaded, reproduced, transmitted, manipulated or used in any way without written permission of the photographer.
Disclosure: "Some of the links in this post are affiliate links. This means if you click on the link and purchase the item, I will receive an affiliate commission."
Please follow and like us: