Boulder Exploring
Mork, calling Orson. Come in, Orson!!! Na-Nuu, Na-Nuu, today we are heading into Boulder Colorado to survey the earthly surroundings. Our spaceship is being piloted by Kate our earthling home owner's daughter. Mork (aka Andrew) and Mindy (aka Carolyn) are buckled in to their respective space sits. Launch has commenced, driveway clear, engines on and all systems go for launch. As we hurtle along through the universe we see new and wonderful scenes. Alongside us, dozens of other spaceships are speeding along to see who reaches their destination first. Our pilot is keeping up with them, so it's a good thing we are buckled in tight. In the foreground the outer reaches of our planet are changing from open country with a backdrop of mountains. Into a cluster of asteroids (aka houses) as we begin our descent into Boulder.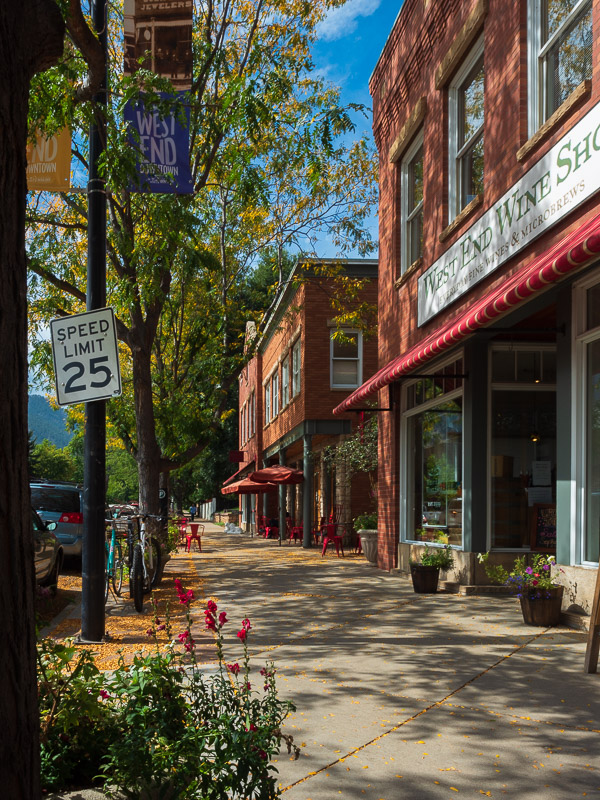 In the distance a landing pad is open, so our pilot careful moves the spaceship into position. But wait, from the outer cosmos another spaceship hurtles in and steals our landing pad. Shazbot!!! Mork exclaims, dam Martians!!! Hence, our pilot surveys the horizon and finds an underground spaceship landing dock. She manoeuvres our spaceship delicately into position and lands softly. Upon exiting our spaceship, we follow the signs to enter our new earthly frontier. Surprisingly we are greeted by a cooler climate to what we have had over the last three weeks with temperatures in the mid to late 30's. However, this changed as the earthling's day went on.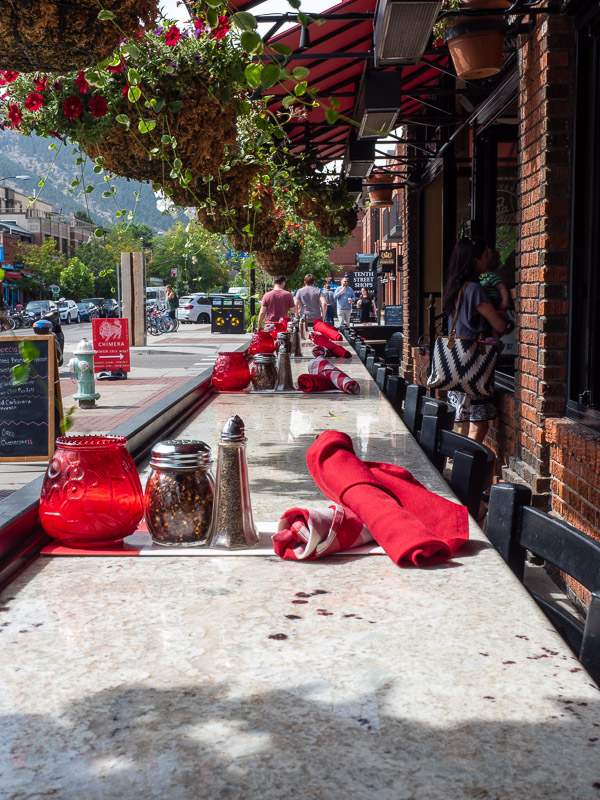 Boulder Acclimation Complete     
Time has come to explore our unique environment of Boulder. As a result of our acclimation our alter egos come to the fore. Boulder is situated at the base of the Rocky Mountains and 40 Kms northwest of Denver. It sits 1655 metres above sea level and it is home to the main campus of the University of Colorado. To the west of the city sits the iconic rock formation called the Flatirons made up of sedimentary rock. Average temperatures range from a low of -6 c in winter to a high of 31 c in summer. Outdoor activities within and around Boulder include rock climbing, hiking, and mountain biking just to name a few. For a comprehensive guide to Boulder please check out this link.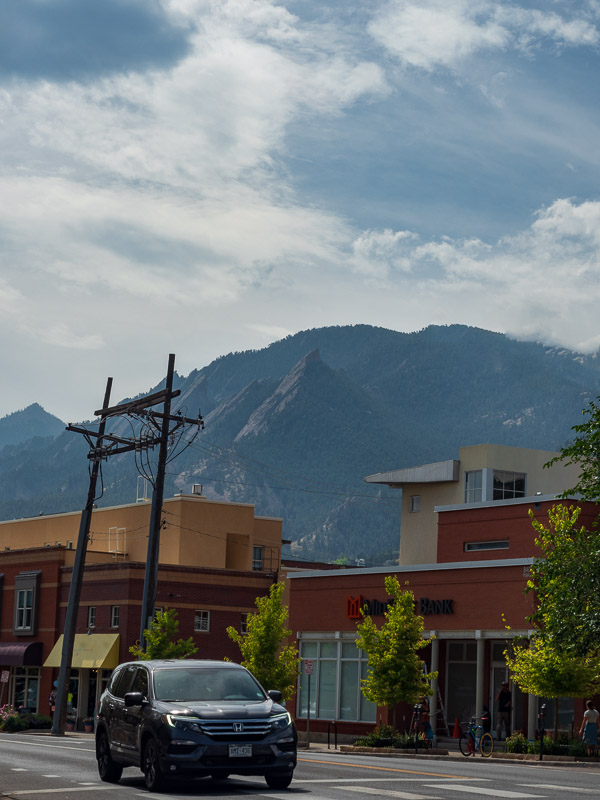 In the middle of Boulder lies the Pearl Street Mall which has been blocked to traffic and is vibrant and full of pedestrians. Across both sides of the mall, shops with rustic facades, cafes, restaurants and bars line its edges. In the centre of the mall lovely flower beds with flowering plants dot the landscapes. Also, numerous sculptures, food vans and a water fountain for kids to play are incorporated into the mall. As we stroll through the mall we feel a sense of freedom as three months ago we were both stuck in a rut. The air is beginning to warm as we approach noon, we head into Starbucks for a coffee and a chat.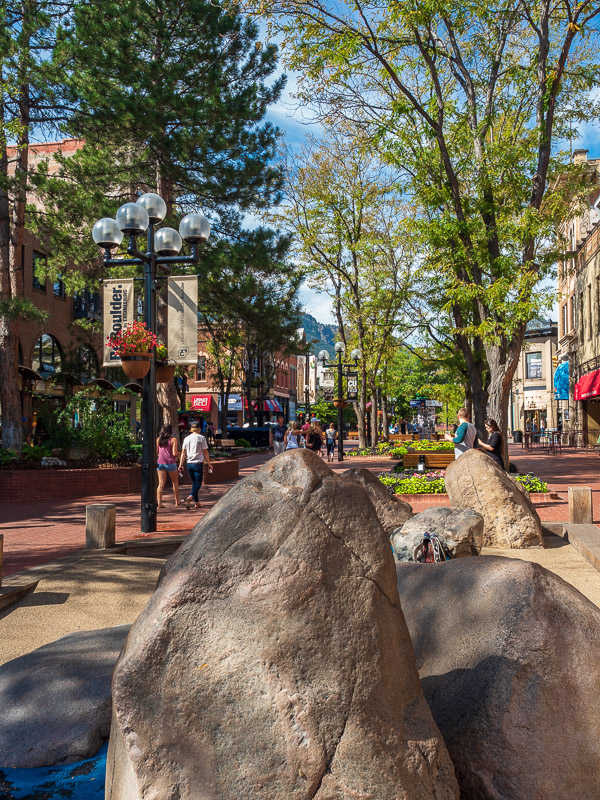 Tree Lined Streets
Finishing our coffee's, we head back into the mall and wind our way back on the other side. We stop for pictures along the way, to capture the beauty that is Boulder as well as recording our memories. As we approach the middle of the mall, a beautiful building the court house connects via a garden path. With a lovely paved path and surrounding gardens, people sit eating their lunch soaking up the tranquillity. Continuing up the mall we see a candy store, we make a detour inside to explore and maybe buy something. In spite of my sweet tooth we ended up buy nothing but had a laugh at some of the bottles of drinks, pictured below. Finally, we reached the end of the mall, we continue to meander up the tree lined street. To the right we pass some lovely ornate houses with beautiful gardens.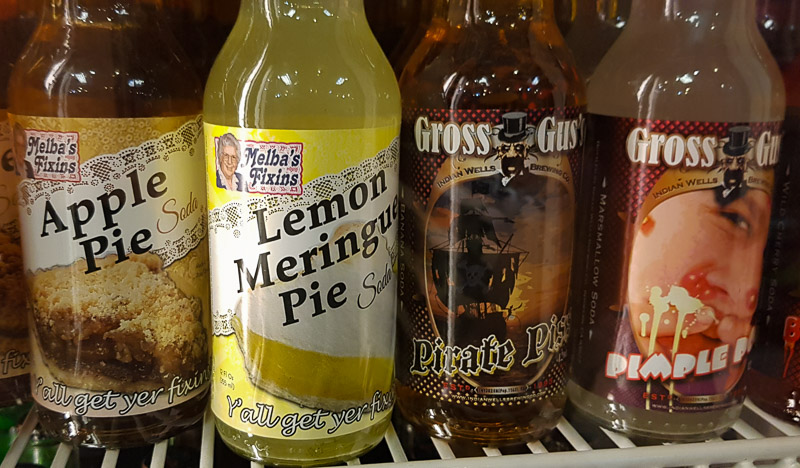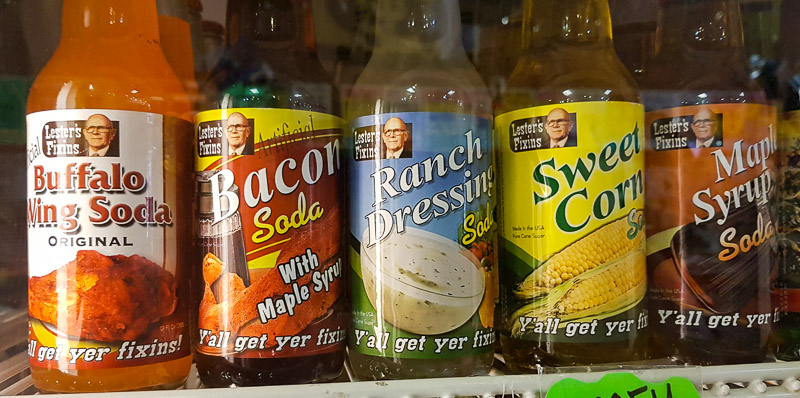 Further up the street and to the right of us we get a view of the Flatirons behind a cute building. I was able to grab some images but because of the position of the sun they weren't the best. Anyway, we still got a shot so I'm happy with that. In view of the time we decided to head back to the spaceship and bid a fond farewell to Boulder. On the whole we have had an awesome time exploring downtown Boulder and all it has to offer. We would highly recommend a visit if you are close by, as Boulder won't disappoint you.
Until next week, this is Mork signing off.
We would love for you to follow our exciting journey by joining our friends list here on our website and following us on our social media pages below.
If you have any comments or questions we would love you to leave them below or email us.
Take care
Travel is Sweet (Dream It, Experience It, Treasure It)
Travel Tips
Find Your Flights
Skyscanner is a great tool for searching websites and airlines around the world to make sure you get the best available price possible.
Book Your Accommodation
Booking.com is our go to tool for booking hotels. It always gives us a large variety of hotels at great rates. We also use Airbnb as a wonderful alternative for those places you may want to go and live with the locals.
Always Get Travel Insurance
Travel insurance is a must and this is speaking from experience. Comprehensive protection will protect you against illness, injury, theft, accidents and cancellations. Just in case something goes wrong, heaven forbid. We never travel without it, having used it several times over the years. World Nomads have years of experience and knowledge to look after all your travel needs.
All images, photographs, and prints are exclusive property and may not be copied, downloaded, reproduced, transmitted, manipulated or used in any way without written permission of the photographer.
Disclosure: "Some of the links in this post are affiliate links. This means if you click on the link and purchase the item, I will receive an affiliate commission."