Great Smoky Mountains
Which country music icon was born in the Great Smoky Mountains? Let me give you a couple of hints. They have written many songs, sung by various artists, notably Whitney Huston who had a huge hit with one of them. Sung hit duets with Kenny Rogers and Willie Nelson. Has a theme park in Pigeon Forge, Tennessee. Hopefully your answer is Dolly Parton. She was born in Pittman Centre, Sevier County in the Great Smoky Mountains in 1946. As well as Dolly Parton, Ben Jones (Cooter from Dukes of Hazard), Johnny Knoxville and Christina Hendricks were all born in the shadows of the Great Smoky Mountains. Dolly Parton once said, "A lot of people don't realise I came out of the Smoky Mountains with a load of songs."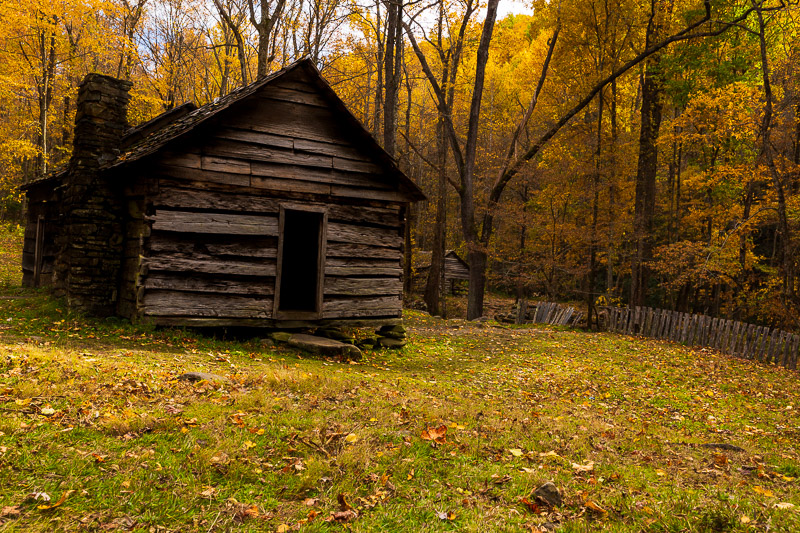 The Great Smoky Mountains are situated on the state lines of Tennessee and North Carolina USA. They are a subrange of The Appalachian Mountains and are commonly shortened to the "Smokies". Eventually, in 1934 the Great Smoky Mountains National Park was established within the Great Smoky Mountains. In fact, this park is the most visited park in the United States with over a 11 million visitors a year. *"The name "Smoky" comes from the natural fog that often hangs over the range and presents as large smoke plumes from a distance. This fog is caused by the vegetation exhaling volatile organic compounds, chemicals that have a high vapor pressure and easily form vapours at normal temperature and pressure". Additionally, in 2016 the Smokies were devastated by a wildfire that claimed 14 lives and injured 134.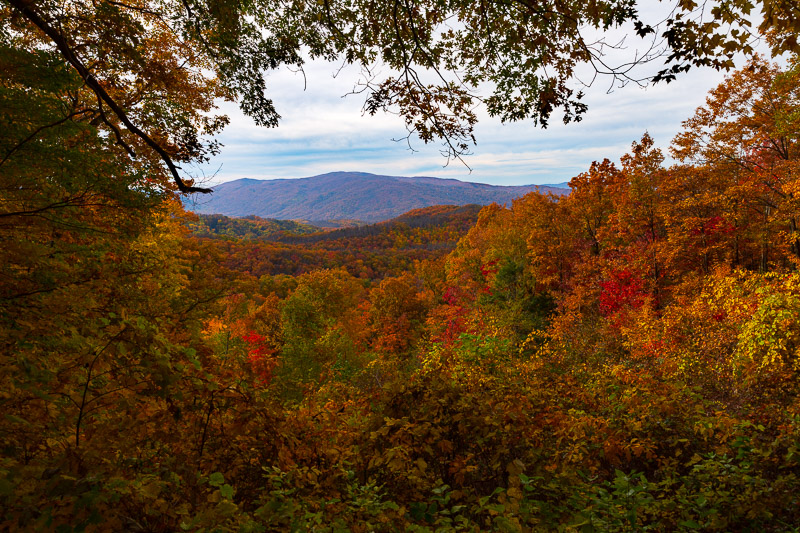 Surprising Welcome
As a result of a change in our itinerary, thanks to my father in-law. Adding the Great Smoky Mountains turns out to be the best "audible call" we have made this road trip. Consequently, modifying our itinerary we now go via a town called Pigeon Forge. Home to an amazing range of family orientated entertainment, which is total unexpected. In  addition, it is also home to Dollywood and Dollywood Stampede, unfortunately we haven't time to take in a show. This is only one, of many reasons, we will definitely organise to visit here again and spend time exploring this town.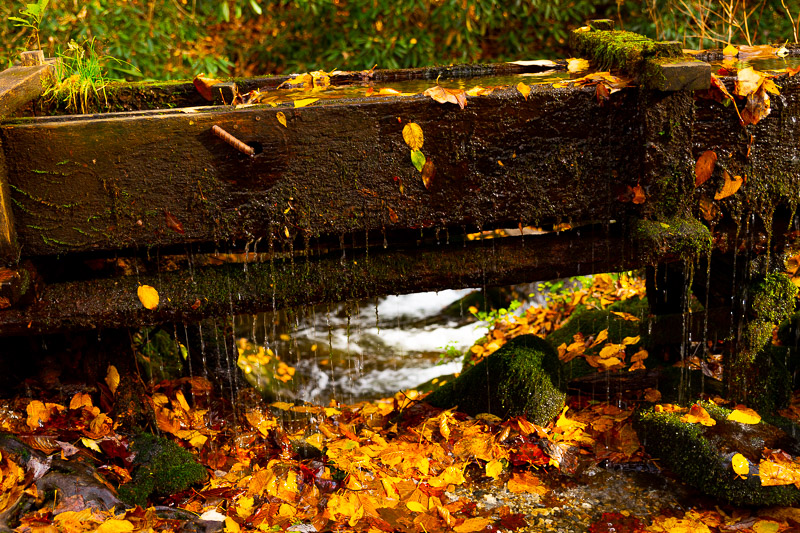 However, it obviously is not a secret to Americans as it is incredibly busy. We later find out that this is very normal for this time of year, however it gets busier in summer. In fact, as we get closer to Gatlinburg the amount of people seems to double. Gatlinburg is to be our base for a couple of days and is centrally located to reach many trails and outlooks. Surprisingly, we are also greeted by a black bear foraging on the side of the road. Unfortunately we are unable to get a picture.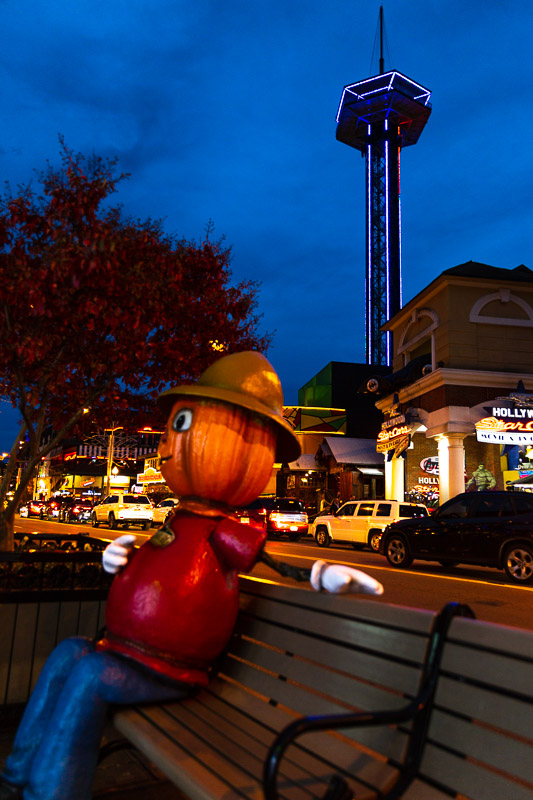 Fall Colours
As Aussies living in Queensland autumn colours is something we don't see. Consequently, we are amazed by the colours that are on show when we arrive in the Great Smoky Mountains. We have seen movies and TV shows from the USA that show the colours of fall but seeing them close up was truly spectacular. The vivid shades of reds, oranges and yellows blow our minds. As a result, many photographs followed at every vantage point that we stop at. Jaw dropping vistas, stunning water views and picture-perfect vintage cabin scenes are everywhere. Driving along the "Roaring Fork Motor Nature Trail" is quickly becoming our favourite destination on this road trip. Looking out over rolling mountains splashed with diverse shades of reds, greens, oranges and yellows is awe inspiring. Images burnt into our memories that will not be forgotten, as well as captured in camera.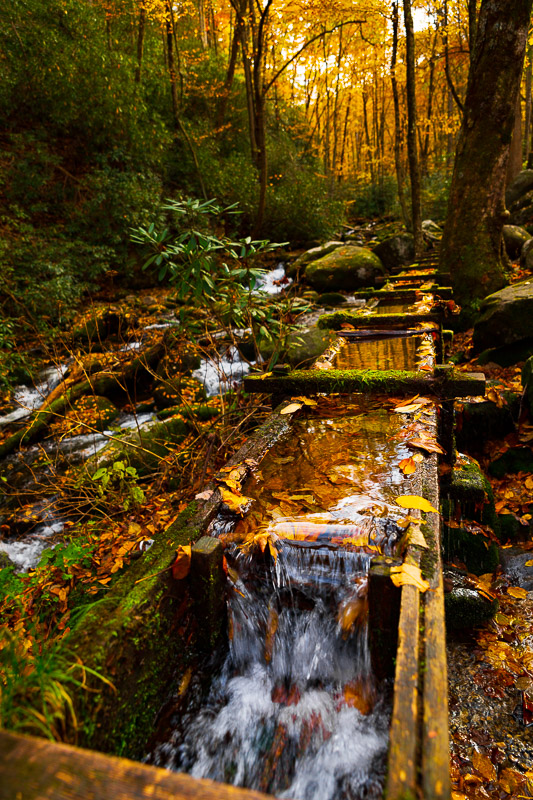 Our next exploration is Cades Cove Loop Road which according to research we may see some wildlife, notably bears. The road leading to this trail is truly breath taking. Winding side by side with Laurel Creek, dropping over small waterfalls and cascading over rocky beds. Trees in the process of changing, providing a canopy of colours of Fall across the road. Driving this trail, we are presented with amazing vista and colours, but unfortunately no bears. The serenity of this gorgeous area is only tainted by the number of vehicles traveling along the trail. Which is ironic, because we are one of those vehicles 😊. I would highly recommend a visit to the Great Smoky Mountains if you have the chance. Ultimately you will be glad you took the time to see this incredible piece of Americas National Parks.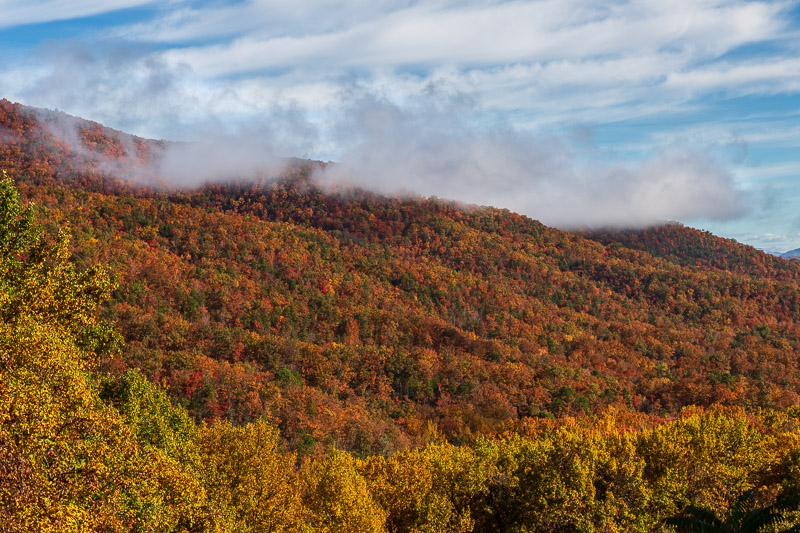 Join Us
We would love for you to follow our exciting journey by joining our friends list here on our website and following us on our social media pages below.
If you have any comments or questions we would love you to leave them below or email us.
Take care
Travel is Sweet (Dream It, Experience It, Treasure It)
*Insert comes from "https://en.wikipedia.org/wiki/Great_Smoky_Mountains"
Travel Tips
Find Your Flights
Skyscanner is a great tool for searching websites and airlines around the world to make sure you get the best available price possible.
Book Your Accommodation
Booking.com is our go to tool for booking hotels. It always gives us a large variety of hotels at great rates. We also use Airbnb as a wonderful alternative for those places you may want to go and live with the locals.
Always Get Travel Insurance
Travel insurance is a must and this is speaking from experience. Comprehensive protection will protect you against illness, injury, theft, accidents and cancellations. Just in case something goes wrong, heaven forbid. We never travel without it, having used it several times over the years. World Nomads have years of experience and knowledge to look after all your travel needs.
All images, photographs, and prints are exclusive property and may not be copied, downloaded, reproduced, transmitted, manipulated or used in any way without written permission of the photographer.
Disclosure: "Some of the links in this post are affiliate links. This means if you click on the link and purchase the item, I will receive an affiliate commission."
Please follow and like us: