Peyto Lake Canada
Astounding doesn't quite convey the staggering beauty that greets me as I step onto the viewing platform. Surreal turquoise coloured water, spectacular mountains rising from the valley, stunning panoramic vistas span every direction. If heaven has an advertising poster this would be its image. Fifty two years of life and never have I gazed upon such a breathtaking landscape. Peyto Lake is etched indelibly in my mind. For this reason I would urge everyone to visit this amazing lake, if you get the opportunity. You will not be disappointed.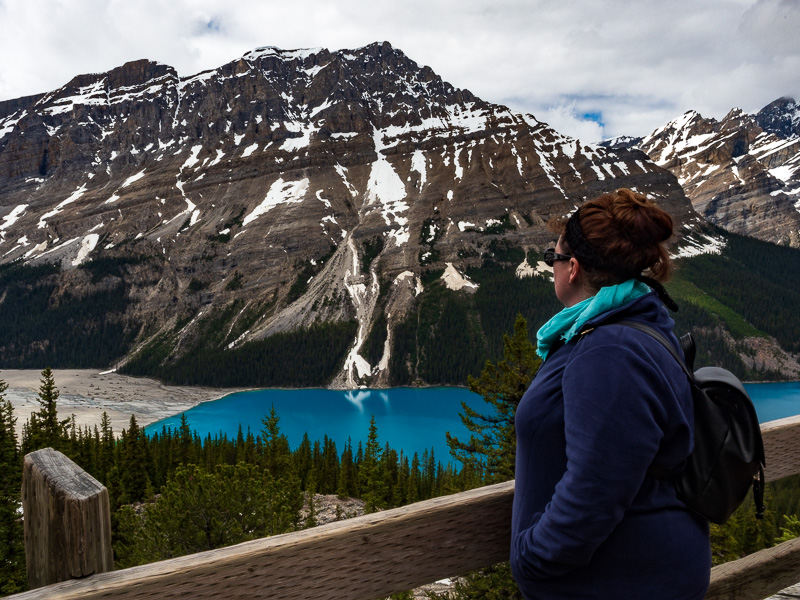 Peyto Lake is named after an early trapper and trail guide from the Banff area Bill Peyto. It lies between Mount Jimmy Simpson, Caldron Peak, Peyto Peak and sits 1860 metres above sea level. Measuring 2.8 kilometres long by 800 metres wide it is fed mainly by Peyto Creek which gets water from Peyto Glazier. In the summer months glazier rock flour flows into the lake in substantial amounts. Hence, these rock particles give the lake its amazing bright turquoise colour. Peyto Lake's outflow is also the head of Mistaya River. Bow Summit is the highest point on the Icefields Parkway and is the best vantage point to view Peyto Lake.
Getting to Peyto Lake
Lake Peyto is situated in the heart of Banff National Park Alberta in the Canadian Rockies. To access Bow Summit car park, you will need to travel along the AB-93 Icefields Parkway. Travel south from Jasper 188 kilometres or 43 kilometres north from Lake Louise to reach the entrance. Once on the access road there are two car parks. If you travel to the end of the access road there is a limited amount of car spots but the walk to the viewing platform is relatively flat and easy. However, parking at the lower car park you will find lots of parking spots and 2 bio toilets.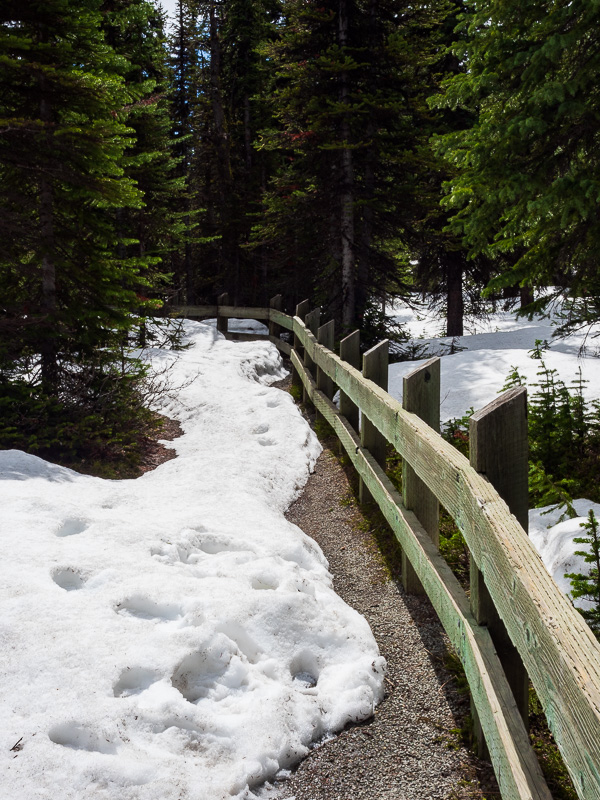 Although, the walk/hike of approximately 1.5 kilometres to the viewing platform is taxing. So long as you are fit this inclined walk will be no problems. For those that are elderly or unfit it will be about 30 minutes, including shorts stops to catch your breath. For this reason, my suggestion is to check for available spots in the top car park or drop off elderly or unfit passages here. Another key point, both top and bottom trails are paved. However, proper walking shoes are a must, particularly when the snow and ice start to melt.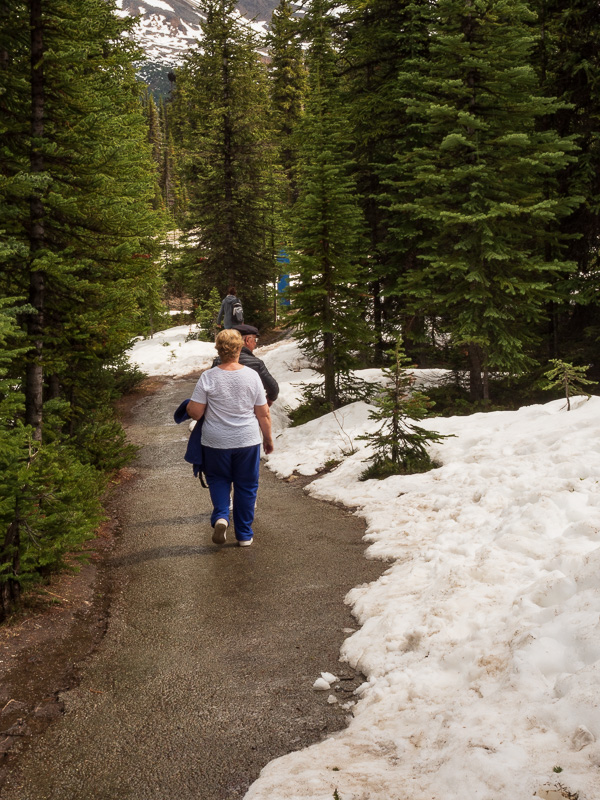 Important Info
Best Time to Visit: in general, as with most popular tourist attractions Peyto Lake gets very busy. Arriving early before 10 am or late afternoon will help you avoid the crowds and tour buses. It is open all year round with summer being the busiest period. However, any time of year will give you a stunning vista. Although, you will need to be careful on the walk, in winter.
Fees: Peyto Lake is situated in Banff National Park and therefore park fees are required. Current fees can be located at Parks Canada website. As an illustration, we were in the park for 6 nights and had a car with four Adults and it cost us $120 CAD (May 2018). However, if you are on a tour into Banff National Park these fees should be included in your tour.
Amenities: There are 2 bio toilets located at the bottom car park. However, there are no shops, so make sure you bring water and food should you require it. As a matter of fact, the closest lodging is 6.5 kilometres south called Simpson's Num-Ti-Jah Lodge. Otherwise more lodging and shops can be found at Lake Louise.
Quick Tip Guide
Arrive early before 10am to afford crowds or late afternoon
Bring water and food as there are no shops.
Wear proper walking shoes
Pack for different weather conditions as it can change quickly.
Carry bug spray as the bugs can be very friendly.
Try to park at the top car park limited spaces.
Be prepared for a steep climb from bottom car park.
Join Us
We would love for you to follow our exciting journey by joining our friends list here on our website and following us on our social media pages below.
If you have any comments or questions we would love you to leave them below or email us.
Take care
Travel is Sweet (Dream It, Experience It, Treasure It)
Travel Tips
Find Your Flights
Skyscanner is a great tool for searching websites and airlines around the world to make sure you get the best available price possible.
Book Your Accommodation
Booking.com is our go to tool for booking hotels. It always gives us a large variety of hotels at great rates. We also use Airbnb as a wonderful alternative for those places you may want to go and live with the locals.
Always Get Travel Insurance
Travel insurance is a must and this is speaking from experience. Comprehensive protection will protect you against illness, injury, theft, accidents and cancellations. Just in case something goes wrong, heaven forbid. We never travel without it, having used it several times over the years. World Nomads have years of experience and knowledge to look after all your travel needs.
All images, photographs, and prints are exclusive property and may not be copied, downloaded, reproduced, transmitted, manipulated or used in any way without written permission of the photographer.
Disclosure: "Some of the links in this post are affiliate links. This means if you click on the link and purchase the item, I will receive an affiliate commission."
Please follow and like us: