Pha Charoen Waterfall
Waterfalls are a favourite of mine to visit, admire and not least photograph. With this in mind, we always try to locate waterfalls in the vicinity of where we are travelling. Therefore, our time in Mae Sot Thailand is no different. Hence, I turn to google to find waterfalls within close proximity. Pha Charoen Waterfall pops up in the search results and looks worthy of a visit. While making specific travel plans to visit waterfalls may not be everyone's cup of tea, both Carolyn and I love them. Although we have visited some amazing waterfalls around the world, finding hidden treasures lights up our being. Albeit, Pha Charoen Waterfall may not be the jaw-dropping spectacle of many others, it does have a peaceful calming aura about it. The soothing sound of water cascading gently over weathered rocks will continue drawing us to waterfalls.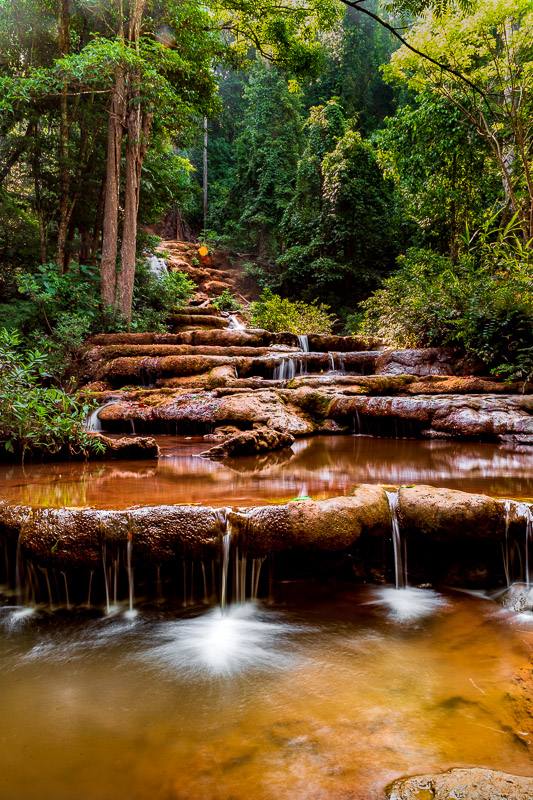 Pha Charoen Waterfall Location
Pha Charoen Waterfall is situated in the Namtok Pha Charoen National Park. From Mae Sot we take route 1090 south (otherwise known as Death Highway) approximately 40 kilometres (45 mins) turning left into the national park. We follow a paved road approximately 1 kilometre to a parking lot that has about 50 spaces. The waterfall is an easy 100-metre walk from the carpark, along footpaths albeit not exactly level. Reaching the base, we are greeted to a multi-levelled slow cascading waterfall. However, I believe during the rainy season this would be flowing considerable faster and stronger. In between the lower sections of the falls, there are small pools ideal for taking a quick refreshing dip to escape the hot temperatures.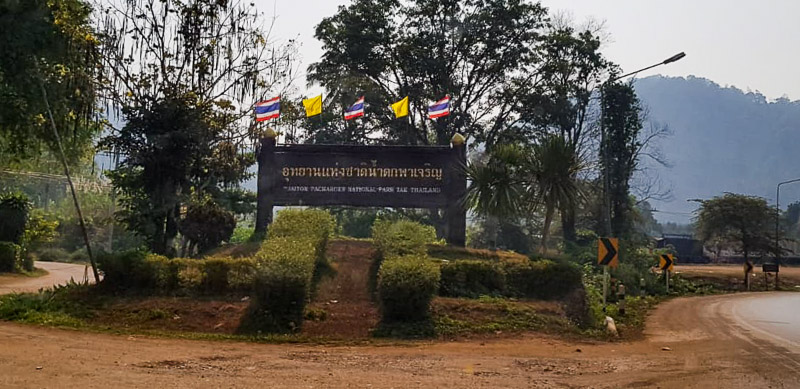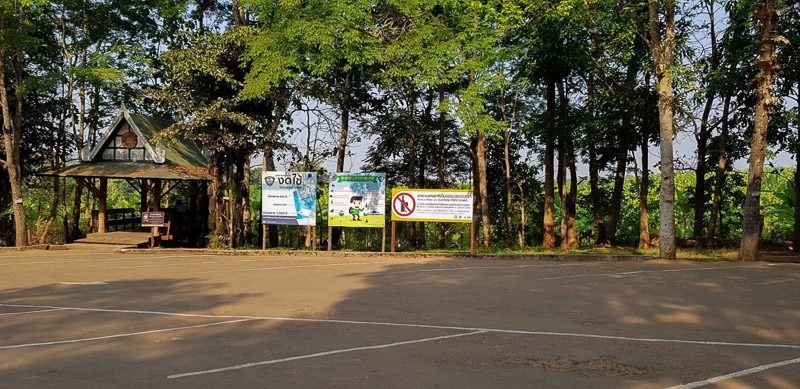 Left to the base of the waterfall you will notice stairs approximately 100 that will take you to the top. You will get some different views of the falls but I believe the best are from the base. During the rainy season these stairs may be very slippery, and caution would be needed. However, if you like a bit of an adventure you could navigate the steep rocky trail to the right of the waterfall. Although, very arduous and I wouldn't recommend it for those that are of the senior years or less active, like me 😊. I was quite surprised at the facilities provided here. There is a café serving coffee cold drinks and some cakes, clean toilet blocks and an undercover area to sit. The only negative we found was a couple having a bath in the rock pools.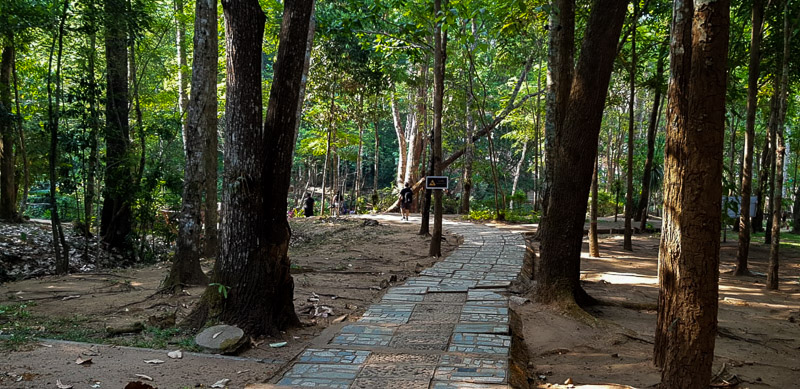 Pha Charoen Waterfall Photography Tips
Locals frequent this area so arriving early would be best. Thus, if you wish to get some lovely photographs you will not have to contend with people being in your shot. Furthermore, the sun will be low and not cause issues with high contrasting areas. In addition, if you wish to capture silky water movement you will need a tripod, shutter release cable (or set the camera to self-timer). Allowing you to use a smaller aperture and slow shutter speed. Some of the photographs in this blog have been captured with this equipment plus filters and some on Samsung phone. As we arrived later the sun was not in the best position. If you would like some tips on aperture head over to my article for more information.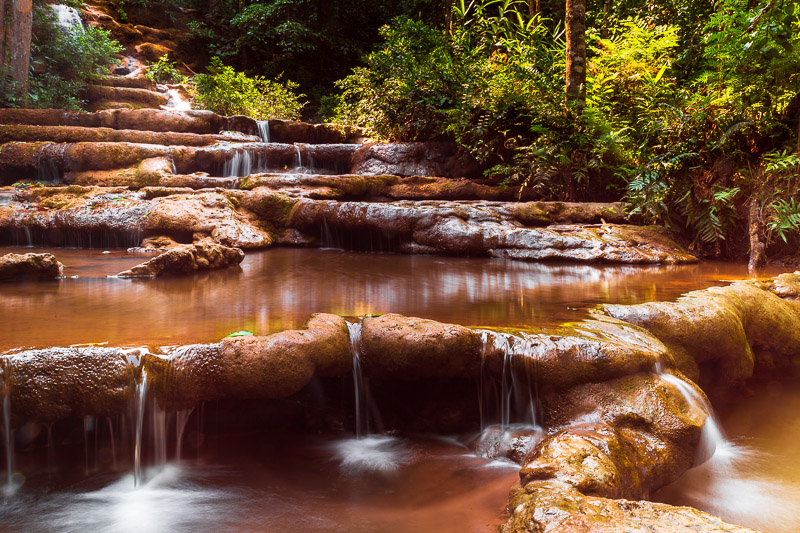 Park opens at 8 am and closes at 6 pm and is free to enter. If you are in the location of Pha Charoen Waterfall it is well worth stopping in and having a look. Would be very interesting to see in the rainy season.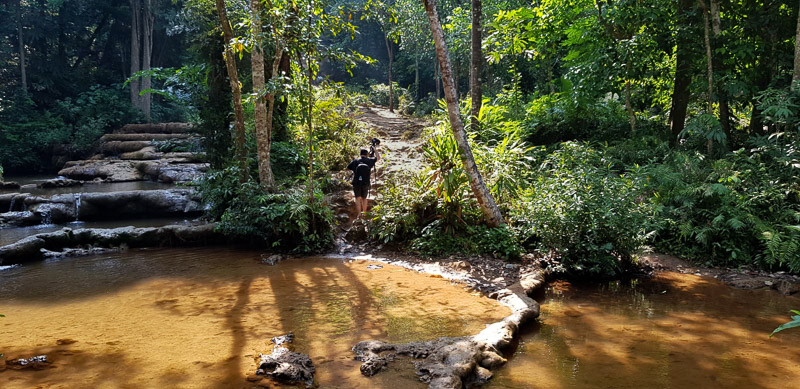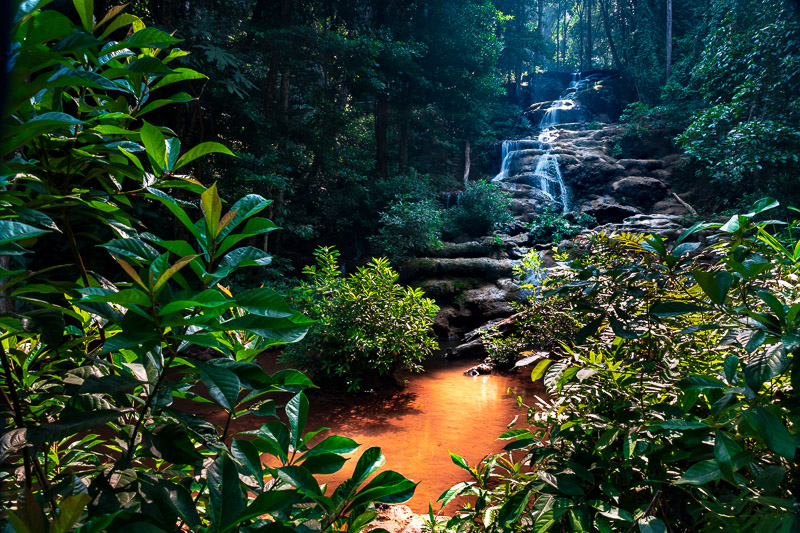 Join Us
We would love for you to follow our exciting journey by joining our friends list here on our website and following us on our social media pages below.
If you have any comments or questions we would love you to leave them below or email us.
Take care
Travel is Sweet (Dream It, Experience It, Treasure It)
Travel Tips
Find Your Flights
Skyscanner is a great tool for searching websites and airlines around the world to make sure you get the best available price possible.
Book Your Accommodation
Booking.com is our go to tool for booking hotels. It always gives us a large variety of hotels at great rates. We also use Airbnb as a wonderful alternative for those places you may want to go and live with the locals.
Always Get Travel Insurance
Travel insurance is a must and this is speaking from experience. Comprehensive protection will protect you against illness, injury, theft, accidents and cancellations. Just in case something goes wrong, heaven forbid. We never travel without it, having used it several times over the years. World Nomads have years of experience and knowledge to look after all your travel needs.
All images, photographs, and prints are exclusive property and may not be copied, downloaded, reproduced, transmitted, manipulated or used in any way without written permission of the photographer.
Disclosure: "Some of the links in this post are affiliate links. This means if you click on the link and purchase the item, I will receive an affiliate commission."
Please follow and like us: