Phoenix to Tucson
What I love about our lifestyle is we get to do road trips in between house sits. Today we leave Lane and Ryan's place in Phoenix Arizona heading towards Austin Texas for our next sit. We have five days in total to cover the distance of about 1700 kilometers. Therefore, each day should be easy travelling. Having picked up our hire car yesterday from Alamo, we got a lovely surprise when they upgraded our car to a SUV. This should make for a comfortable and pleasant trip. Our first leg takes us from Phoenix to Tucson, with a detour via Mount Lemmon. Roughly about 400 kilometers will be traveled today. For those that aren't well versed in US geography Phoenix is located pretty much in the centre of Arizona, with Tucson laying south east of Phoenix. Temperatures at the moment are around 100°F around 38°C.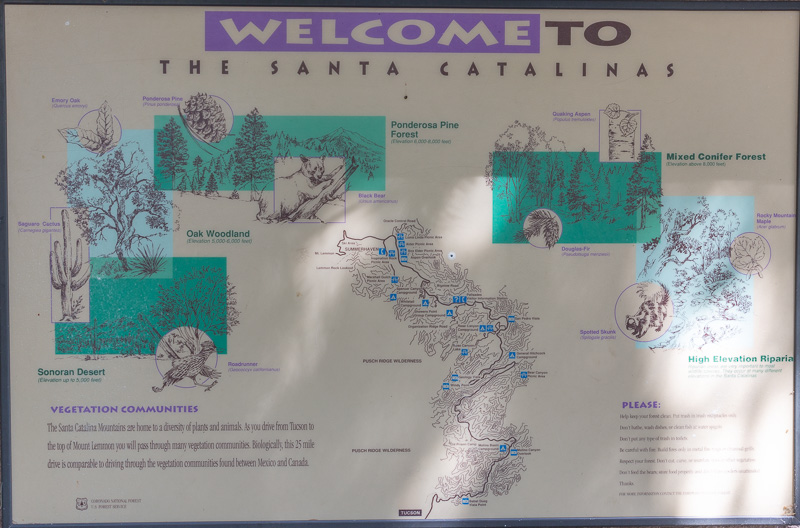 We head off around 8 am local time and of course we hit peak hour traffic on the freeway. Hence, the first hour of travel is considerably slower that we would like. However, being that time isn't really an issue we happily crawl along until we pass the airport, from there the traffic begins to thin out. This section of the trip we have travelled before with Bob and Pat my in-laws about seven years ago. Passing by the hotel we stayed at with them, brought back happy memories of that trip. Since we haven't had breakfast, we are of course in need of our morning coffee. Carolyn has found a Starbucks just off the freeway at Casa Grande, so we detour to get our cup of joe. Now, having had our caffeine fix we continue with our journey, while the temperature is on the rise.
Plane Graveyard
Once again, we are on the freeway traveling along at a comfortable speed of 80 mph (130 km) we pass, an interesting rock formation called Picacho Peak. A tad further on we pass Rooster Cogburn Ostrich Ranch not sure if it has anything to do with the character played by John Wayne. We don't stop as we have to be careful on what we spend. As we continue our Phoenix to Tucson road trip, in the distance, we can see lots of planes not sure why, but as we get closer it looks like a plane graveyard. I take charge and make an executive decision and pull off the freeway onto a road that I hope takes us out there. Thankfully it does with surprising results.
Ahead we see something on the road and as we get closer, we realise it's two Bobcats. However not having my camera ready and Carolyn's phone not at the ready we miss our chance of getting a picture of them. They quickly run off into the bushes and we don't see them again ☹. It's annoying as we both usually have our cameras ready. Moving on we drive further up the road and find all these old planes sitting, decaying, cannibalized and fenced off. It makes you wonder what happens to all the obsolete planes. There must be lots of graveyards like this around the world.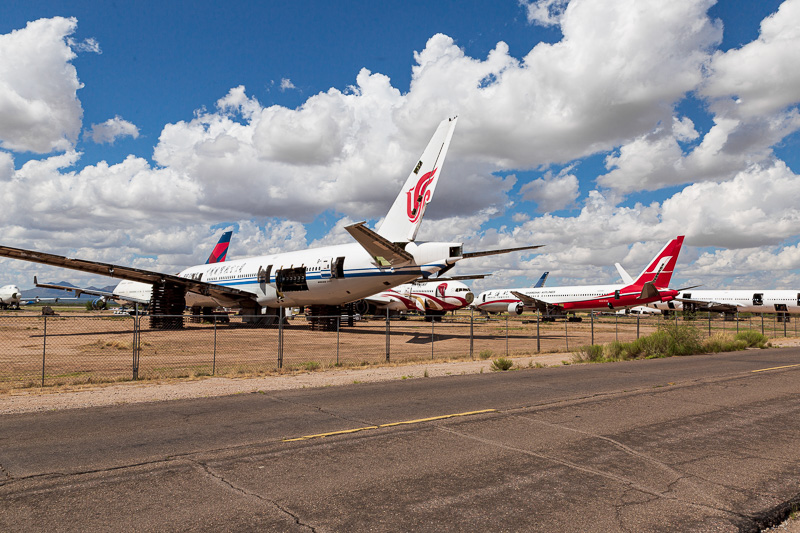 We quickly jump back into the car as it is very warm outside, only to jump back out again as we notice about 10 parachutists descending into the confines of the graveyard. I quickly capture a few images before they land.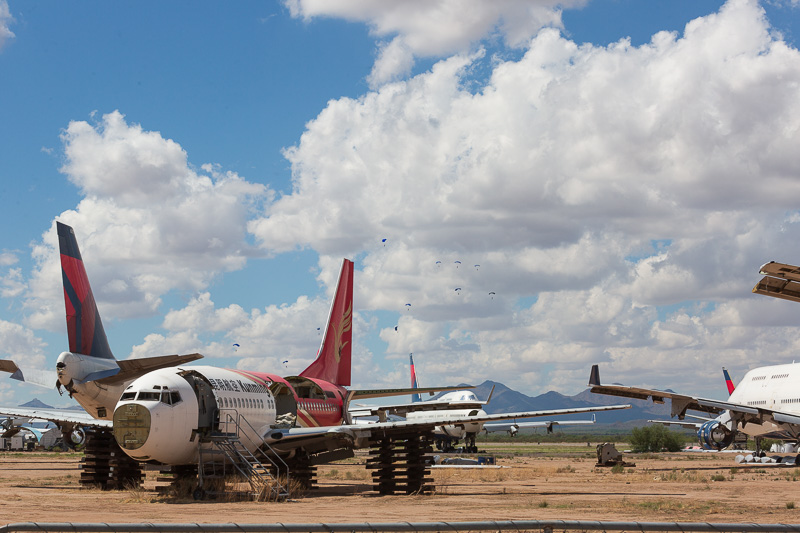 Mount Lemmon
Having now returned to the freeway our Phoenix to Tucson road trip continues. Turning off towards Mount Lemmon before Tucson. The surrounding landscape is dry, harsh and unforgiving with only the toughest of shrubs and cactus surviving.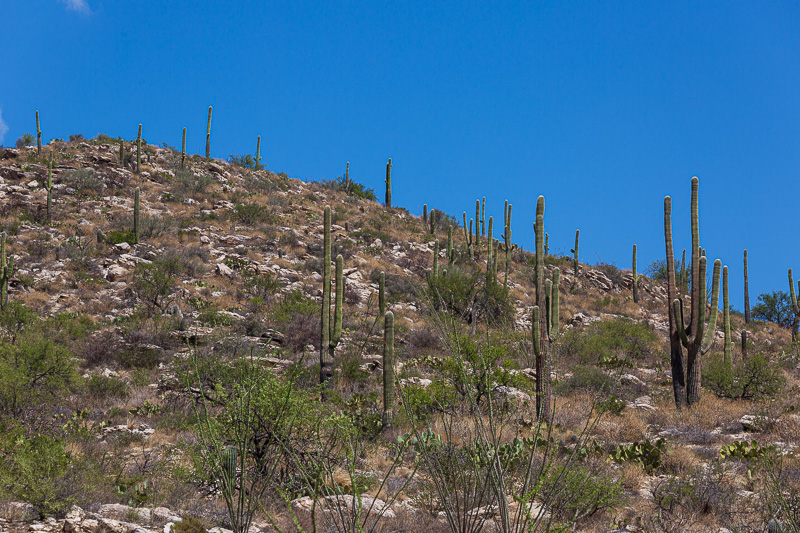 As we commence our ascent the road begins a steady, windy and scenic incline. The higher our elevation the more the landscape changes. Moving from cactus to smaller trees and shrubs. From about 6000 feet above sea level the landscape has morphed into a forest.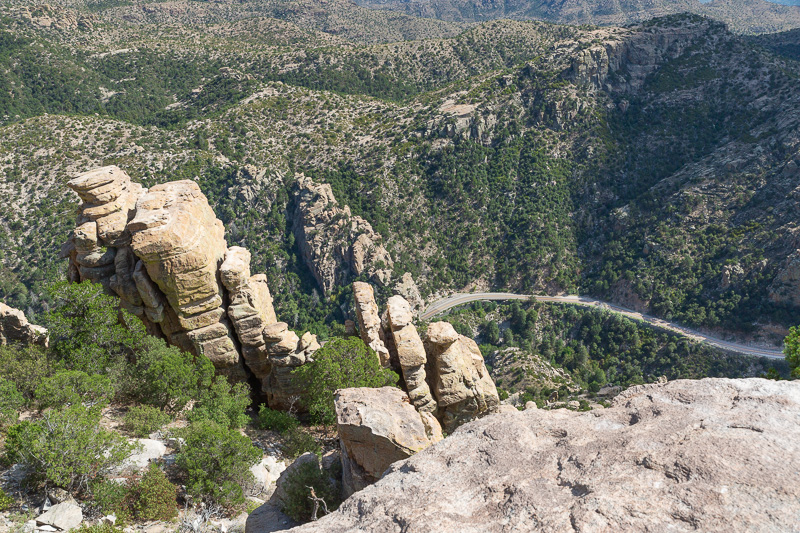 We are also greeted by signs about snow ploughs, ice on bridges and a ski resort. Obviously, it snows here in the winter months. Hence the change in landscape. Signs about wildlife are frequent but as per most other trips, sighting actual wildlife is sparse beside crows and at one point some type of raptor. Reaching the summit, we are greeted to views of Tucson through the trees.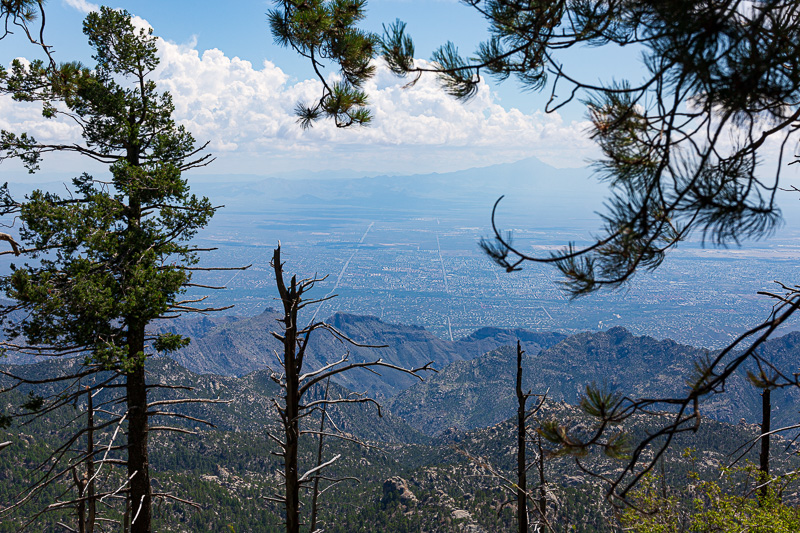 Starting our descent, we see the small ski field and accompanying chair lift. While it is not a huge resort out here in south east Arizona it would be an oasis for ski lovers. We take a quick detour through the small alpine village called Summerhaven and check out the local store.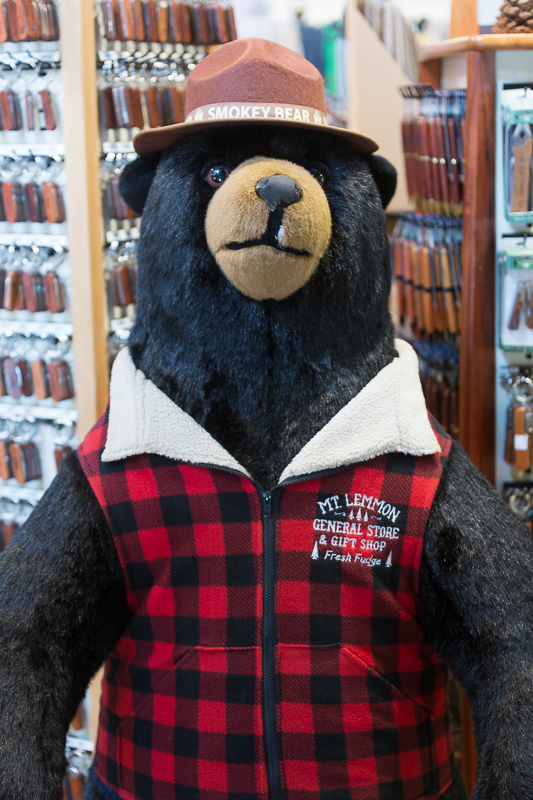 This would definitely be a wonderful place to live in Arizona if you don't like the summer heat as the temperature has dropped 30° F from the time, we started our ascent. Continuing down the mountain we stop off at numerous pull outs and admire the amazing rock formations and the stunning view.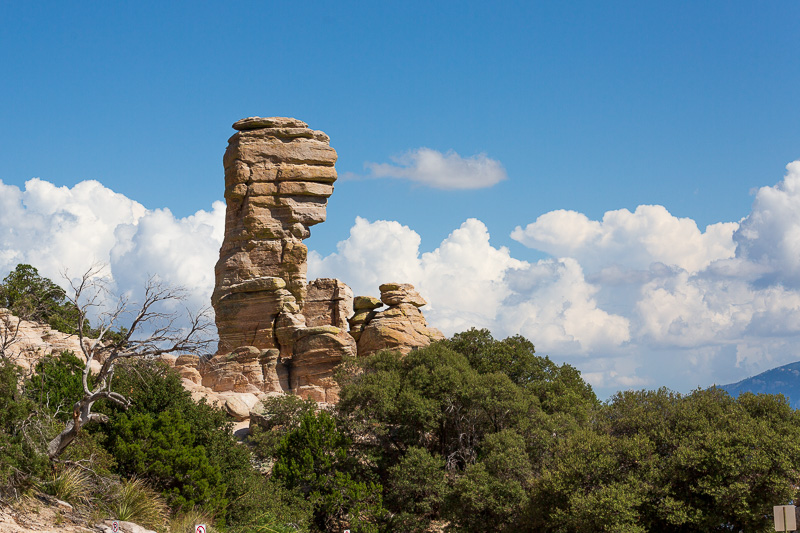 Albeit very hazy, the sun isn't in the best of positions, for photography, it still was beautiful. At one stop I am amazed by the stupidity of people risking their lives to get a selfie or just to sit on the edge of a cliff.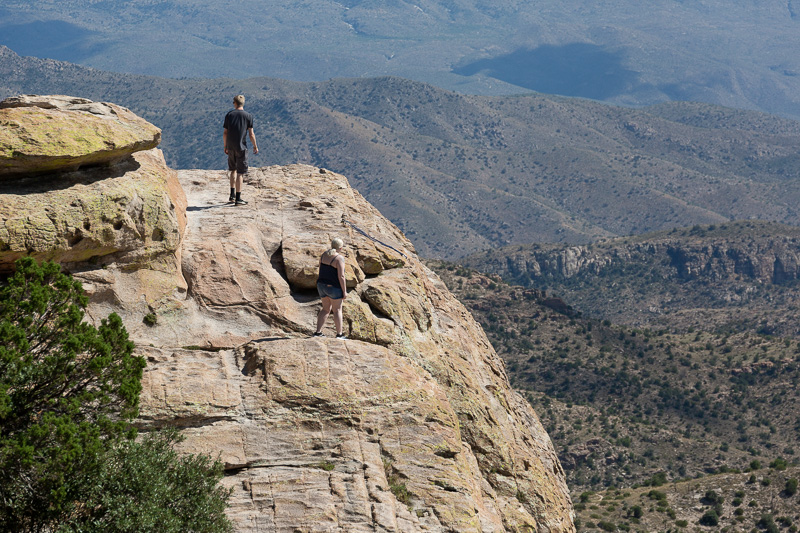 Reaching our Hotel
After the shock of seeing these people it reminds me of how a moment of thoughtlessness can cause years of sorrow to their family and friends. Please take note and heed all safety signs as it only takes one slip. Enough of my ranting 😊. Having reached the bottom of our mountain climb, we head towards Tucson and our accommodation for the night. Our Phoenix to Tucson road trip is almost complete. But low and behold we see an even bigger plane graveyard, this time for the US air force. Row upon row of small to very large planes sitting derelict on military grounds. There must be billions of dollars in aircraft rotting away. Unfortunately, we were unable to get a picture, but it was amazing to see. We reach our hotel for the night and relax in its airconditioned room.
Our Phoenix to Tucson road trip has been an enjoyable day of travel and sightseeing. Albeit, not the most amazing scenery along the freeway Mount Lemmon definitely made up for it. Worth a visit if you are in the vicinity. Stay tuned for our next post of Tucson to Deming.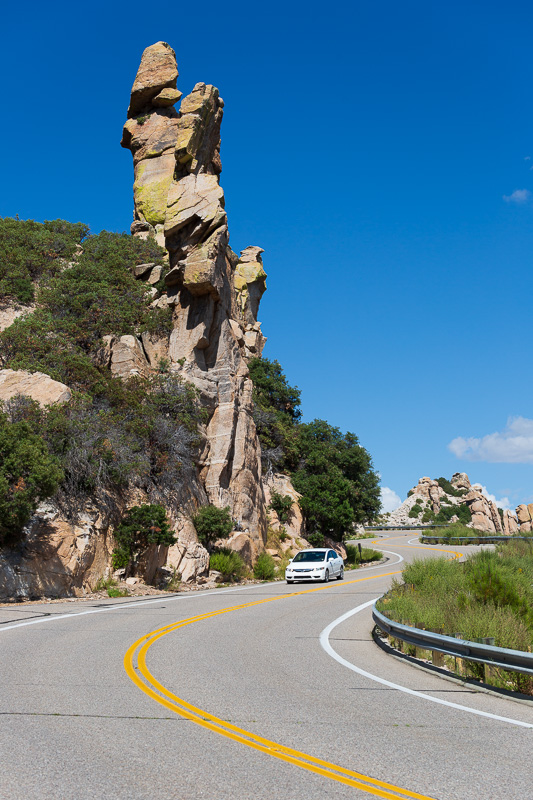 Join Us
We would love for you to follow our exciting journey by joining our friends list here on our website and following us on our social media pages below.
If you have any comments or questions we would love you to leave them below or email us.
Take care
Travel is Sweet (Dream It, Experience It, Treasure It)
Travel Tips
Find Your Flights
Skyscanner is a great tool for searching websites and airlines around the world to make sure you get the best available price possible.
Book Your Accommodation
Booking.com is our go to tool for booking hotels. It always gives us a large variety of hotels at great rates. We also use Airbnb as a wonderful alternative for those places you may want to go and live with the locals.
Always Get Travel Insurance
Travel insurance is a must and this is speaking from experience. Comprehensive protection will protect you against illness, injury, theft, accidents and cancellations. Just in case something goes wrong, heaven forbid. We never travel without it, having used it several times over the years. World Nomads have years of experience and knowledge to look after all your travel needs.
All images, photographs, and prints are exclusive property and may not be copied, downloaded, reproduced, transmitted, manipulated or used in any way without written permission of the photographer.
Disclosure: "Some of the links in this post are affiliate links. This means if you click on the link and purchase the item, I will receive an affiliate commission."