House & Pet Sitting References
"Carolyn and Andrew are absolute stars. I had to leave my little Zippy shortly after her being diagnosed with bladder stones, so not easy. Vets advised me to manage her with medications which meant blood frequently everywhere and not normal dog minding habits. I felt stressed but as soon as I met Carolyn and Andrew I felt at ease. Zippy was well loved and cared for. Her daily medications were given and Carolyn sent through lots of cute photos and messages which made my day. My house was kept clean and well maintained. Both Carolyn and Andrew obviously love animals, both of them spoiling my Zippy, even letting her sleep between them at night... thank you. I would highly recommend them to future pet owners. They are kind, friendly, great with communication, and reliable. I am truly grateful ."
Clare
Burleigh Heads
Australia
8 Day Sit August 2019
5 Star Rating
"I am so thankful to my awesome friends Carolyn & Andrew Deagle for caring for my little mutt and house while I was away OS recently. They are professional house sitters and travel the world taking care of people's house and animals. They did an amazing job and I have no hesitation in recommending them to anyone wanting or needing their fur babies cared for while you travel. Louie absolutely loves them to bits, even though he was excited to see me when I returned home, he still insisted on sleeping on the bed with Carolyn & Andrew until just a couple of days ago when he has finally returned to mine."
Beth
Mudgeeraba
Australia
6 1/2 Week Sit May/June/July 2019
5 Star Rating
"I can't recomend Carolyn and Andrew enough as house and pet sitters. They looked after my dog and cat for 11 days in Chiang Mai, Thailand. I was very nervous about leaving my dog as he is very fearful of strangers. Everyday I was given multiple updates with photos. I could tell they were putting in a lot of effort to ensure my dog was comfortable with them. When I returned home he had become best friends with them! Upon returning home, the house was spotlessly clean and the animals were happy. I would recommend them 100% without hesitation as house and pet sitters."
Talia
Chiang Mai
Thailand
11 Day Sit April 2019
5 Star Rating
"Carolyn and Andrew we're absolutely fabulous! I think our cat prefers them to us now as they really spent quality time with her!
They kept in touch whilst we were away, sending photos and bits of news and we were absolutely delighted to return after an awful journey home, to a clean, tidy, warm house with a homemade meal in the fridge ready to be heated up!!
Would highly recommend them and they are more than welcome to come back to us.
Thanks again!"
Jacqueline
Stirling
Scotland
20 Day Sit March/April 2019
5 Star Rating
"Carolyn and Andrew, took care of my elderly border terrier Eric as if he was there own. He and the house were well taken care of and knowing that I was able to relax and enjoy my holiday."
Helen
York
England
7 Day Sit March 2019
5 Star Rating
"Carolyn and Andrew were perfect house and pet sitters who had reviewed our profile and came prepared. They clearly love animals and easily bonded with the cat and dog. We went away feeling confident that all would be looked after. They kept in contact during their stay, including sending occasional photographs and when we returned (a few hours after they had left to catch their train) we found the animals were very relaxed and the house had been left in a spotless condition.
We found them to be very sincere and committed sitters and can highly recommend them and we would be happy for them to return on another occasion."
Jennie
Oxford
England
5 Day Sit March 2019
5 Star Rating
"Carolyn & Andrew took care of my girls Ruby & Willow very well, which gave me peace of mind. Good luck with their future journeys and sits."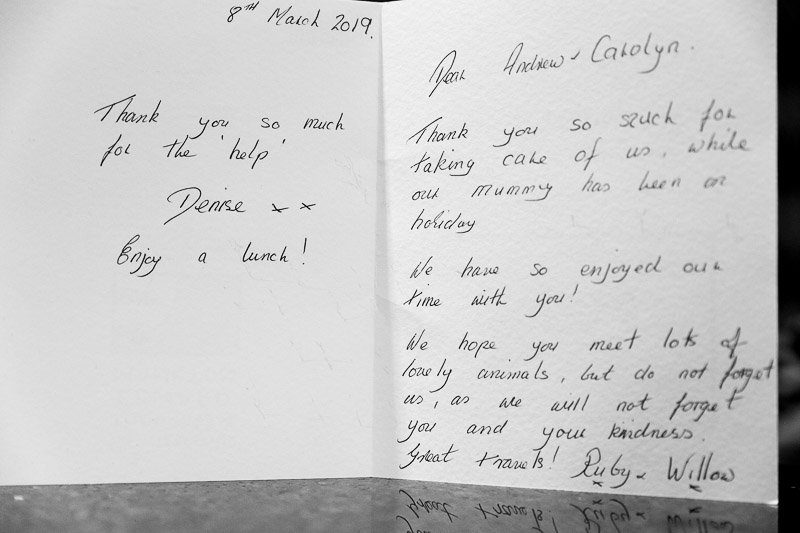 Denise
Little Witley
England
16 Day Sit February/March 2019
5 Star Rating
"We cannot recommend Carolyn and Andrew highly enough. They are an extremely friendly and relaxed couple. Clearly very capable and we had no concerns about them looking after our German Shepherd Cassie and our home. They have lots of experience with Shepherds so were the ideal couple for us as our young shepherd was going through her adolescent stage, which they handled beautifully. Communications were spot on right from the initial contact, all the way through the sit, with regular photos of walks and cuddles with Cassie. On our return the entire house was spotlessly clean and Carolyn had cooked her signature dish for us, a lovely lasagne, meaning we had to do nothing but relax. At our request she sent us the recipe!"
Steve & Catherine
Gloucester
England
16 Day Sit January/February 2019
5 Star Rating
"I cannot say enough GREAT things about Carolyn and Andrew - two of the friendliest, most responsible, and caring individuals our family has had the opportunity to meet on these house/pet-sitting adventures! They took truly excellent care of our pets over the course of nearly three weeks, with numerous updates and photos throughout their stay. Our elderly cat needed injections every 4-5 days, and Andrew took on this role with an ease and care as if she were his own (especially brave, having never done this before!). Of course, Carolyn was there to provide plentiful snuggles and comfort for her as well! In addition, our dog has a bit of leash aggression, but Andrew was very knowledgeable in how to use his slip collar as a tool to control him on their daily walks. And as it was rainy/snow season during their stay, Murphy required regular baths/washing off following their walks, which they happily provided. We returned home to two very happy, calm and well-loved pets, as well as a delicious lasagna prepared by Carolyn. Our home was immaculate, bed linens and towels were in the wash, and the overall re-entry back in to our home life was seamless because of them. If you have the opportunity to choose Carolyn and Andrew for your sit, look no further (and snag them while you can)! We recommend them 100% and with zero hesitation. They are a truly amazing couple with a love for animals, big and small, and our family would welcome them back in to our home with open arms - and we hope to do so!"
Dacia & Luke
Chavannes de Bogis
Switzerland
20 Day Sit December 2018
5 Star Rating
"Carolyn and Andrew are the perfect house sitters. They took great care of my cat Judi for one week and left the house cleaner than ever. I strongly recommend this extremely friendly and reliable couple if you need a sit. They are true animal lovers and they will try their best to make your pet feel as comfortable and relaxed as possible! It was the first time that I was leaving Judi for that long and I was a bit worried about the whole process but thanks to them it went smoothly and they kept me updated during the sit with photos and messages. I could not be happier with how it went. I wish them all the best for the remaining of their world trip and on behalf of Judi and me: a big thank you."
Marine
Aarau
Switzerland
7 Day Sit January 2019
5 Star Rating
"Five stars all the way for this lovely couple who we were fortunate to have come and look after our three lively dogs. They are living the dream and travelling and also looking after pets along the way. I guess having anyone come to your home to look after your beloved pets may be considered a risk. Don't worry as there is no risk involved with Carolyn and Andrew. It was a privilege to meet them. They arrived the afternoon before we left for a long weekend break. We were soon at ease and enjoyed their company and hearing of their adventures so far. Our dogs were also soon at ease with them and we had absolutely no concerns in leaving them. They were very relaxed and attentive to their needs. They kept in touch during our break with some photos and updates. We returned to find our home very clean and tidy with the bedding freshly laundered. I wish them well on their travels and have no hesitation in recommending them as honest, trustworthy and reliable sitters. We hope to meet them again if they are ever back in the north east!!"
Ken & Deborah
Newcastle Upon Tyne UK
5 Day House Sit
5 Star Rating
"Carolyn & Andrew were amazing house sitters, I could not recommend them too highly. They took great care of my girls and my house was immaculate when I returned, beds stripped, linen laundered and beds remade. Carolyn kept in touch when necessary and also passed on messages that were nothing to do with the animals. I would love to see them again.".
Mary
West Mersea
Colchester UK
5 Day House Sit
5 Star Rating
"Carolyn and Andrew did a great job taking care of my three kitties and left my house looking great. They are a very interesting, pleasant, and personable couple and kept me updated both before and during my sit. Highly recommended!".
Susan
Chicago
Illinois USA
5 Day House Sit
5 Star Rating
"If the chance arises please invite these folks into your home! They are personable friendly and took better care of my house than I do! We came home to an immaculate house happy dogs and a meal ready to heat up the next day. This was our first time using this system and we couldn't have been happier with our choice to take care of our almost 13 year old dogs. If you ever get the chance to invite this couple into your home before they return to Australia Do It!!! Carolyn and Andrew have an open invitation whenever they come to the states. They are that wonderful".
Jerri and Jeff
Madison
Wisconsin USA
10 Day House Sit
5 Star Rating
"Carolyn and Andrew Deagle are wonderful house sitters! They are a pleasant, middle-aged couple from Australia who sat for us for 26 days in September 2018. Their duties included taking care of our three year old, 15 pound dog, taking care of our yard, and generally keeping an eye on things. When we returned, "Caz and Andy" and our dog had bonded to the point that a few tears were shed as they left. Which is more, they cleaned the house from A to Z the day we returned, and there was fresh, home made, lasagna in the refrigerator for us when they left. Our only disappointment was that our dog added 15% to her body weight while we were gone. Needless to say, if Caz and Andy were ever available to house sit for us again, we would snatch them up in a heart beat."
Els and Will
Loveland
Colorado, USA
26 Day Sit Aug/Sept 2018
5 Star Rating
"We can highly recommend Andrew and Carolyn as exceptional and trusted House sitters for your home and animals. It was our 1st time using House sitters and we were a bit apprehensive. Carolyn and Andrew put us at ease with communication prior to sit and when they arrived they made sure they had all information of tasks that were required around our rural 5 acre property to be carried out whilst we were away. They are animal lovers and our dogs, Matilda 10 year old whippet Jessie 6month old healer/kelpie, fell in love with them which gave us piece of mind that they would be looked after. Whilst we were away Carolyn sent photos of dogs and updates of their days as well as updates on our 15 chooks. Our son visited our property whilst Carolyn and Andrew were house sitting and he had nothing but praise for taking on the task and keeping everything clean and under control. Upon our return home house was spotless garden and animals well feed and very happy. We wish Carolyn and Andrew all the best on their house sitting travel around the world"
Jane & Glenn
Bilambil Heights
NSW Australia
7 Day Sit Aug 2018
5 Star Rating
"As much as we'd like to keep Andrew and Carolyn all to ourselves, and the fact that they are amazing house sitters a closely guarded secret, we will reluctantly share them.
We cannot recommend them enough for any house/pet sitting assignment.
From the moment we met them, we had no doubt whatsoever that our house, and more importantly to us, our precious pets were in safe hands.
They looked after our chooks, cats, elderly and doddery dogs amazingly well, administering medications and pandering to their every need, demand and whim.
When we returned, the house was absolutely immaculate, their bed had been washed, dried and made up again, and Andrew had even swept our very long and steep drive!
Within an hour of arriving home, we were sat down with a cup of coffee after unpacking and putting some washing on - a rare and very welcome treat after being away.
Both Andrew and Carolyn are reliable, capable, kind and genuinely nice people, who we'd welcome back as guests and be privileged to have as house sitters in the future."
Sarah and Alistair
Eudlo QLD
Australia
5 Day Sit August 2018
5 Star Rating
Wives, submit yourselves to your husbands, as is fitting in the Lord. Husbands, love your wives and do not be harsh with them.
All images, photographs, and prints are exclusive property and may not be copied, downloaded, reproduced, transmitted, manipulated or used in any way without written permission of the photographer.
Disclosure: "Some of the links in this post are affiliate links. This means if you click on the link and purchase the item, I will receive an affiliate commission."