Travel Is Sweet
Dream It, Experience It, Treasure It
Where Are We: Stayed our next house sits at Gloucester looking after a German Shepherd until 3rd of February :-)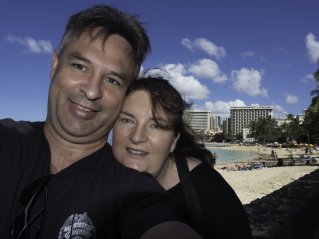 Welcome to Travel is Sweet. Our names are Carolyn and Andrew Deagle a married couple from the beautiful Gold Coast in Queensland Australia. We fell in love with travelling, in 2004 and now travel, as often as we can. So you can follow our journey, we have decided to create our own Travel blog to share our experiences with you and hopefully give you some valuable tips and tricks. As I am a keen photographer, we 'd also like to share some beautiful photos, fun videos and entertaining stories we have gained in our travels over the years.
This big wonderful world offers so many travel opportunities and for those yet to travel, it can be a daunting task of knowing where to start, when organising your plans. Our aim is to provide useful information that will make the process a lot easier for those new to travel. Carolyn and I have been fortunate enough to travel to several continents and countries, from Canada to China with stops in the US and New Zealand, Travel is sweet! To say we have had some amazing experiences, would be an understatement , we have also experienced some things that we wouldn't like to happen to anyone. We have created spectacular memories and we have learnt many useful tidbits we are eager to share.
Our Airbnb in Rock Springs Wyoming was our first foray into the Airbnb world and to our surprise we were blown away by the accommodations. Brett's place was located in a quiet street, it incorporated the bottom floor of the house. It was spacious, newly...
read more
Then he said to them, "Whoever welcomes this little child in my name welcomes me; and whoever welcomes me welcomes the one who sent me. For it is the one who is least among you all who is the greatest."
All images, photographs, and prints are exclusive property and may not be copied, downloaded, reproduced, transmitted, manipulated or used in any way without written permission of the photographer.
Disclosure: "Some of the links in this post are affiliate links. This means if you click on the link and purchase the item, I will receive an affiliate commission."