Travel Is Sweet
Dream It, Experience It, Treasure It
Where Are We: Our homeowner has returned from her holiday. Just over a month until we fly off OS again :-). We can't wait.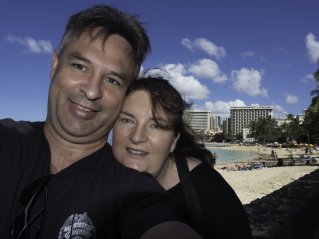 Welcome to Travel is Sweet. Our names are Carolyn and Andrew Deagle a married couple from the beautiful Gold Coast in Queensland Australia. We fell in love with travelling, in 2004 and now travel, as often as we can. So you can follow our journey, we have decided to create our own Travel blog to share our experiences with you and hopefully give you some valuable tips and tricks. As I am a keen photographer, we 'd also like to share some beautiful photos, fun videos and entertaining stories we have gained in our travels over the years.
This big wonderful world offers so many travel opportunities and for those yet to travel, it can be a daunting task of knowing where to start, when organising your plans. Our aim is to provide useful information that will make the process a lot easier for those new to travel. Carolyn and I have been fortunate enough to travel to several continents and countries, from Canada to China with stops in the US and New Zealand, Travel is sweet! To say we have had some amazing experiences, would be an understatement , we have also experienced some things that we wouldn't like to happen to anyone. We have created spectacular memories and we have learnt many useful tidbits we are eager to share.
Do You Want A Location Independant Income?
Do You Have What It Takes To Run an International Education Franchise?
Research and Markets forecasts show that e-learning will grow to $325 Billion by 2025.
Help Us Meet the Massive Demand for English Language Teachers Worldwide.
All you need Is an iPad.
Travel Footprints
Over the course of our travels, house and pet sitting, we have journeyed to many a destination leaving behind our travel footprints. Beginning with our honeymoon in 1987 all the way through to our current house sit in 2019. We thought it would be informative to list our travel destinations separate to our house and pet sitting placements. We shall also include the wonderful and interesting animals we have had the pleasure to be step parents for. Of course, we will update our list as we venture into new destinations and enjoy more pets.
Destinations Traveled

Australia
                                      

New Zealand
                                      

USA (37 States)
                                      

Canada
                                      

China
                                      

Hong Kong
                                      

New Caledonia
                                      

Vanuatu
                                      

England
                                      

Scotland
                                      

France
                                      

Switzerland
                                      

Wales
                                      

Fuji
                                      

Spain
                                      

Thailand
                                      

Myanmar
House & Pet Sitting

Australia (3)
                                       

USA (3)
                                       

England (6)
                                       

Switzerland (2)
                                       

Scotland (1)
                                       

Thailand (1)
                                        Dogs (20)
                                        Cats (11)
                                        Chickens (15)
                                        Guinea Fowl (5)
                                        Cockatiels (8)
                                        Fish (3 ponds multiple fish)
                                        Ducks (3)
How to make an income while traveling!!! This has been my main focus since we began. Travel is Sweet was conceived as a travel blog for our travel adventures. However, it has since morphed to include our house and pet sitting journey as well. While our website was...
read more
Travel Is Sweet Affiliates
But seek first his kingdom and his righteousness, and all these things will be given to you as well.
All images, photographs, and prints are exclusive property and may not be copied, downloaded, reproduced, transmitted, manipulated or used in any way without written permission of the photographer.
Disclosure: "Some of the links in this post are affiliate links. This means if you click on the link and purchase the item, I will receive an affiliate commission."