Travel Is Sweet
Dream It, Experience It, Treasure It
Where Are We: 21.10.19 Completed our 4th section of the Blue Ridge Parkway from Boone NC to Asheville NC. Staying in Asheville NC tonight then traveling to Cherokee tomorrow. Like our Facebook Feed at facebook.com/travelissweet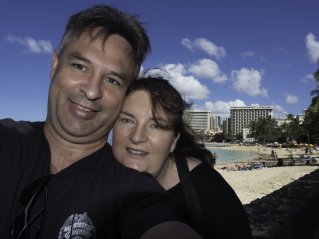 Welcome all to Travel is Sweet. Our names are Carolyn and Andrew Deagle a married couple from the beautiful Gold Coast in Queensland Australia. We fell in love with traveling in 2004 and in 2018 changed our lifestyle and begun our lives as full time international house and pet sitters. Having sold our unit, car and most of our possessions we now travel full time. We decided to create our travel, house and pet sitting blog to share our experiences and journeys with you and hopefully give you some valuable tips and tricks. Share some beautiful photos, fun videos and entertaining stories we have gained in our travels over the years.
This big wonderful world offers so many travel opportunities and for those yet to travel it can be a daunting task of knowing where to start organizing your plans. Our aim is to provide useful information that will make the process a lot easier for those new travelers and house sitters.
We have been fortunate to travel to four continents and sixteen countries at present. The USA and Canada have been our main ports. However, we have just completed stops in the UK, Europe and Thailand. Our motto of travel is sweet dream it, experience it, treasure it certainly rings true for us. We have had amazing experiences, but also some that we wouldn't like to happen to anyone. All together they have creating spectacular memories and we have learnt many useful tidbits we are eager to pass on.
Do You Want A Location Independant Income?
Do You Love Teaching? Would You Like To Earn Extra Money Online?
Then Teaching English as a Foreign Language is for you!!!
Research and Markets forecasts show that e-learning will grow to $325 Billion by 2025.
Help Us Meet the Massive Demand for English Language Teachers Worldwide.
All you need Is an iPad.
Travel Footprints
Over the course of our travels, house and pet sitting, we have journeyed to many a destination leaving behind our travel footprints. Beginning with our honeymoon in 1987 all the way through to our current house sit in 2019. We thought it would be informative to list our travel destinations separate to our house and pet sitting placements. We shall also include the wonderful and interesting animals we have had the pleasure to be step parents for. Of course, we will update our list as we venture into new destinations and enjoy more pets.
Destinations Traveled

Australia (5 States)


New Zealand (both Islands)


USA (40 States)


Canada


China


Hong Kong


New Caledonia


Vanuatu


England


Scotland


France


Switzerland


Wales


Fuji


Spain


Thailand


Myanmar


Singapore


Finland
House & Pet Sitting

Australia (4)


USA (6)


England (6)


Switzerland (2)


Scotland (1)


Thailand (1)
Dogs (23)
Cats (18)
Chickens (15)
Guinea Fowl (5)
Cockatiels (8)
Fish (3 ponds multiple fish)
Ducks (3)
Rat (1)
Southern Fried Chicken, we had heard about it but not until today had we tried it. WOW is all we can say. As we have driven along most of the southern states in the last four weeks we head into South Carolina on our way to Charleston. Stopping at a visitors centre to...
read more
Travel Is Sweet Affiliates
Praise the Lord. Blessed are those who fear the Lord, who find great delight in his commands.
All images, photographs, and prints are exclusive property and may not be copied, downloaded, reproduced, transmitted, manipulated or used in any way without written permission of the photographer.
Disclosure: "Some of the links in this post are affiliate links. This means if you click on the link and purchase the item, I will receive an affiliate commission."