Currumbin Rock
Who doesn't remember the 1983 anthem song, of America's Cup challenger Australia II "I come from a land down under" by Men at Work? I remember watching them racing on TV, hearing the song blaring from the yacht as it headed out to race and again when they returned. As an Aussie born and bred, it still makes the hairs on the back of my neck stand up thinking about it. Men at Work must have been ecstatic that, their song was blasting out to millions of views around the world. So why have I brought this up you may ask? In the foreground stands Currumbin Rock, silhouetted by beautifully coloured skies and the rising sun. As I position my camera for that perfect composition, I catch a glimpse of a yachts' sails, billowing and the yacht gliding so gracefully across the ocean. BAM "I come from a land down under" starts playing in my mind.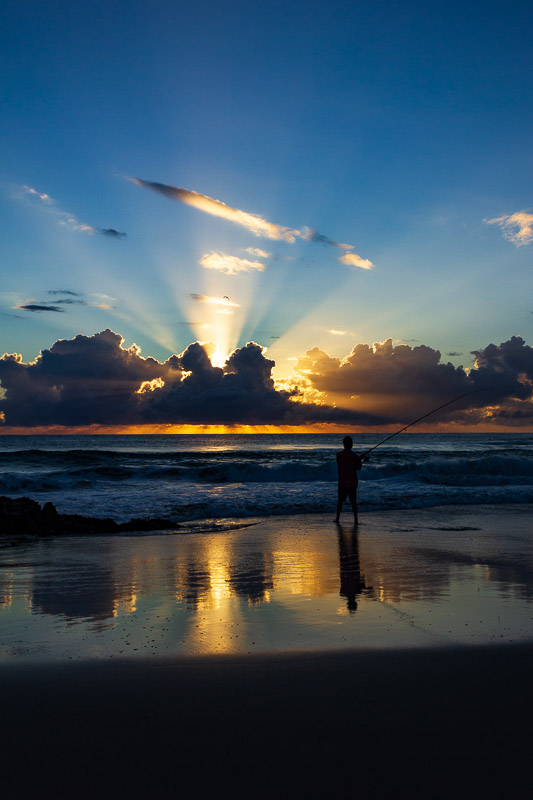 Photography is my passion as many of you know. However, you may not realise that there are times between composing, getting the right settings, focusing and capturing the shot. You have time to quietly think or just admire the amazing locations you are fortunate to be in. Currumbin Rock, I would say is one of my favourite locations to photograph. Whether it be capturing magnificent sunrises or spectacular sunsets. Currumbin Rock has it all, surrounded by the stunning beaches of Currumbin and Palm Beach. Furthermore, Currumbin Alley is situated here, a favourite for local surfers. All this plus having the backdrops of Surfers Paradise to the north and Coolangatta to the south. Therefore, you can imagine that Currumbin Rock is a magnet to not only photographers but surfers, swimmers, walkers, sightseers just to name a few.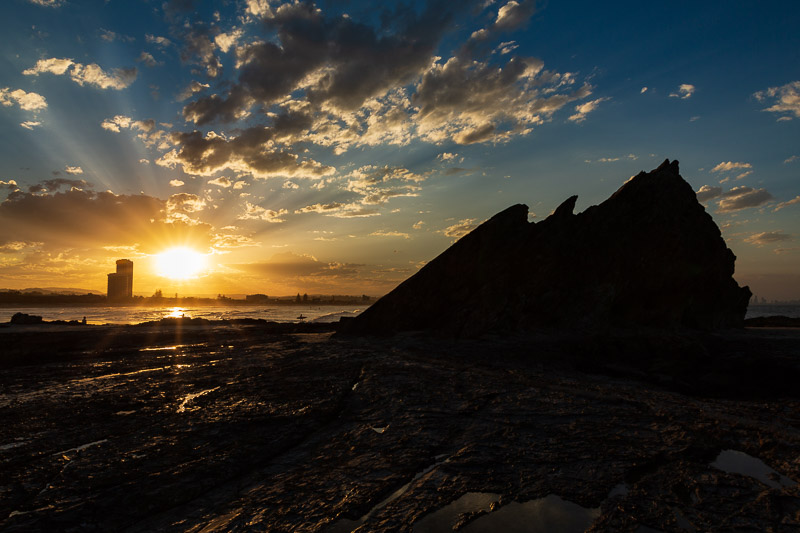 Currumbin Rock Location
For those wishing to visit this amazing location, whether from overseas or another state, Currumbin Rock is fairly easy to navigate to. It is situated on the Gold Coast, Queensland Australia. Approximately 18 kilometres south of Surfers Paradise and 6 kilometres north of the Gold Coast Airport. Currumbin Rock is at the northern end of Currumbin Beach and sits next to Currumbin Alley. There is a free carpark, also street parking but they fill very quickly especially in summer. Arriving early is the best way to guarantee a parking spot. This beach is patrolled by surf lifesavers, however, always take care and swim between the flags. There are cafes, restaurants, tables and toilet amenities along the beachfront street. In the event, you have kids or you are not comfortable in the ocean you can walk along the beach and into Currumbin Creek in five minutes where the water is calm.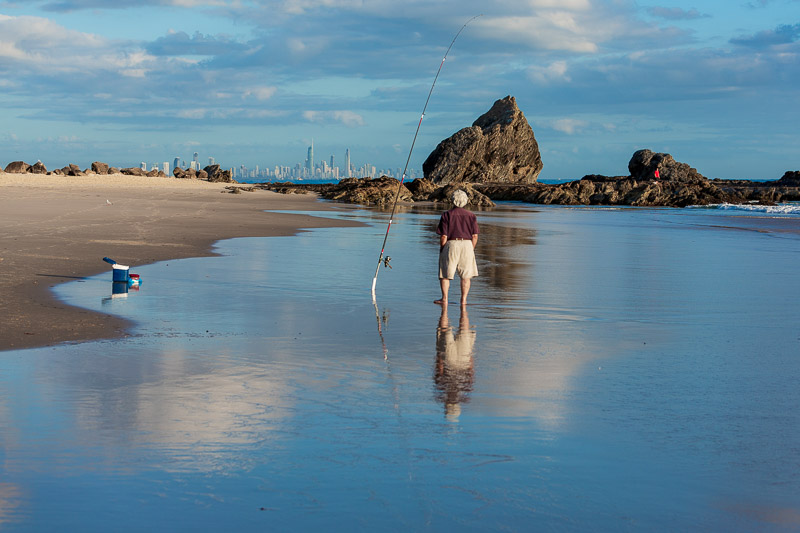 In the event, you wish to capture some dramatic photographs at Currumbin Rock I would make sure to have these items in your camera kit. Tripod, remote shutter release cable, touch and filters all worth having on hand. Additionally, bring some type of footwear because the rocks can be very sharp, jagged and slippery. Furthermore, I would suggest looking at the tides chart to know when sunrise and sunset occurs. Also, check if the tide is coming in or going out. I prefer it coming in as the waves crashing against the rocks give some spectacular formations. "However, take added precautions when setting up near the edge of the rocks as a rogue wave may knock you over or drag you into the ocean". Most of all take time just to soak in the incredible scenery that surrounds this idyllic location.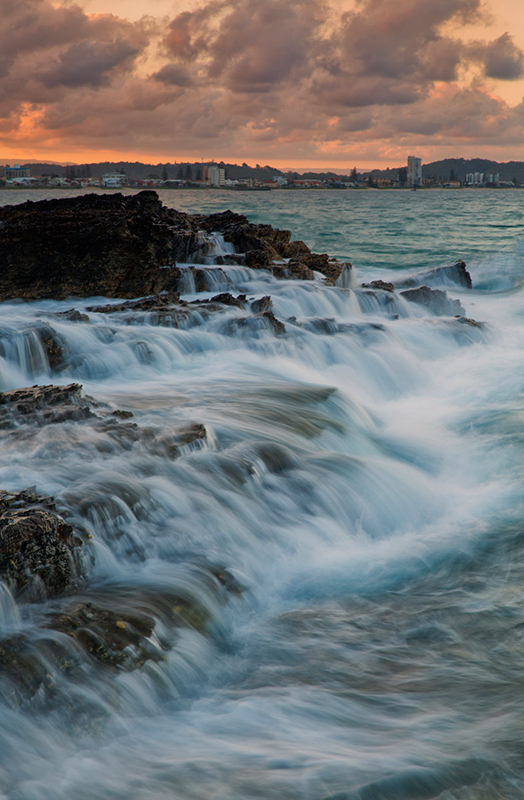 Join Us
We would love for you to follow our exciting journey by joining our friends list here on our website and following us on our social media pages below.
If you have any comments or questions we would love you to leave them below or email us.
Take care
Travel is Sweet (Dream It, Experience It, Treasure It)
Travel Tips
Find Your Flights
Skyscanner is a great tool for searching websites and airlines around the world to make sure you get the best available price possible.
Book Your Accommodation
Booking.com is our go to tool for booking hotels. It always gives us a large variety of hotels at great rates. We also use Airbnb as a wonderful alternative for those places you may want to go and live with the locals.
Always Get Travel Insurance
Travel insurance is a must and this is speaking from experience. Comprehensive protection will protect you against illness, injury, theft, accidents and cancellations. Just in case something goes wrong, heaven forbid. We never travel without it, having used it several times over the years. World Nomads have years of experience and knowledge to look after all your travel needs.
All images, photographs, and prints are exclusive property and may not be copied, downloaded, reproduced, transmitted, manipulated or used in any way without written permission of the photographer.
Disclosure: "Some of the links in this post are affiliate links. This means if you click on the link and purchase the item, I will receive an affiliate commission."
Please follow and like us: