Mae Sa Waterfall Thailand
Heading out from our airconditioned room with a forecast of blistering 40°C day ahead. I wonder if it is such a good idea as heat and myself have never gotten along well! Nevertheless, we start out towards Mae Sa Waterfall about 40 minutes north of our dwelling. Traffic is very light this morning, usually it is clogged with all modes of transportation. Makes the commute to Mae Sa Waterfall quite acceptable. Turning off the highway we pass several animal tourist attractions. Tiger Kingdom, Siam Insect Zoo and Maerim Snake Park are all located on the road to Mae Sa Waterfall. Therefore for anyone wishing to spend a day out, this stretch of road could be your answer. Arriving at the gates into the waterfall we realize there is an entrance fee. While not exorbitant they do charge foreigners more than locals which seems strange.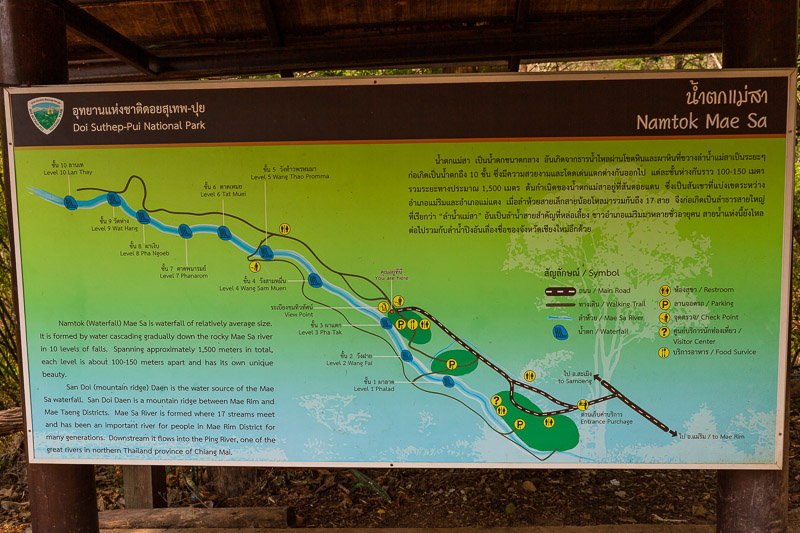 Having handed over our cash, we head to the car park. My suggestion is you drive all the way to the end of the road. This brings you to the top (or 3rd) car park which is closer to the higher cascading falls. There are shops here to grab water, food and souvenirs. Navigating the paved paths upwards towards the different cascades you can hear and see the water meandering peacefully through the valley. Along the way, there are tables and seats at each cascading fall that if busy may all be taken. So as with most tourist attractions arriving early will help ensure you get car parking, tables and seats. Also, there are great spots for setting up and having a picnic by the cool pools of water below each fall. Mae Sa Waterfall comprises ten separate cascading falls, all which can be reached via the paved pathways.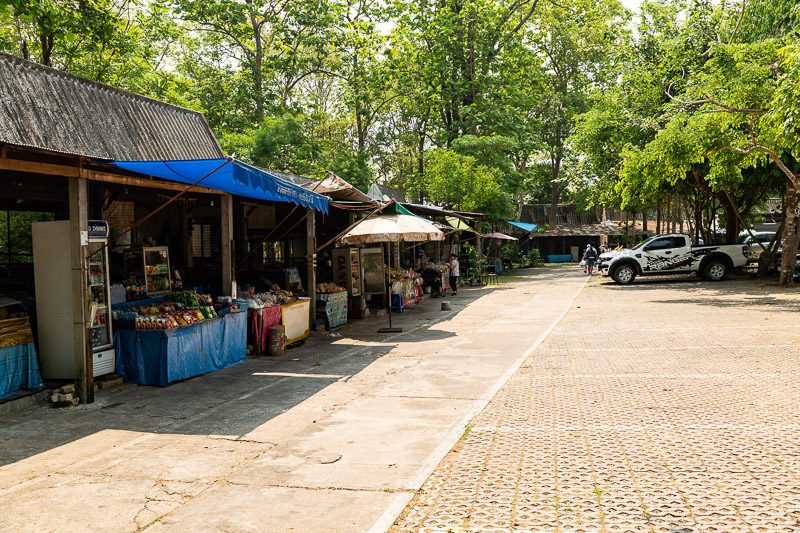 Mae Sa Waterfall My Favourite
Albeit, having seen only Mae Sa Waterfalls (4,5,6, and 7) my favourites were five and six. Five had small cascading water dropping under fallen branches and flowing over water-smoothed rocks.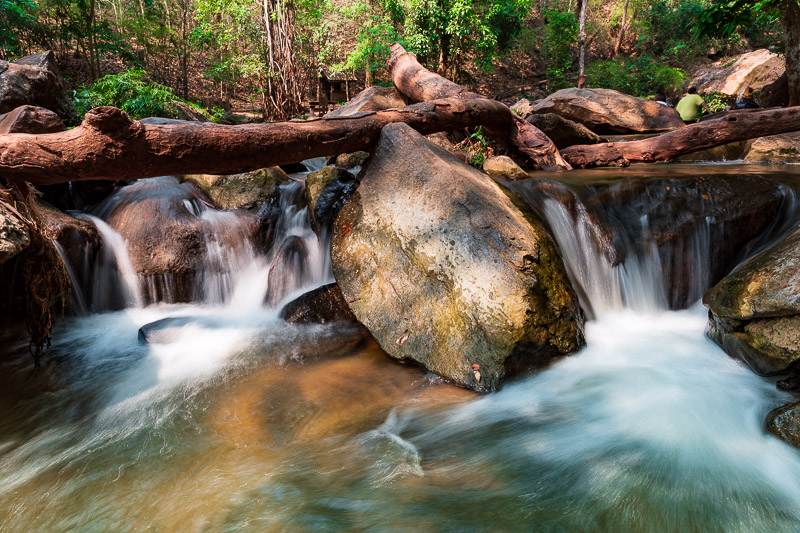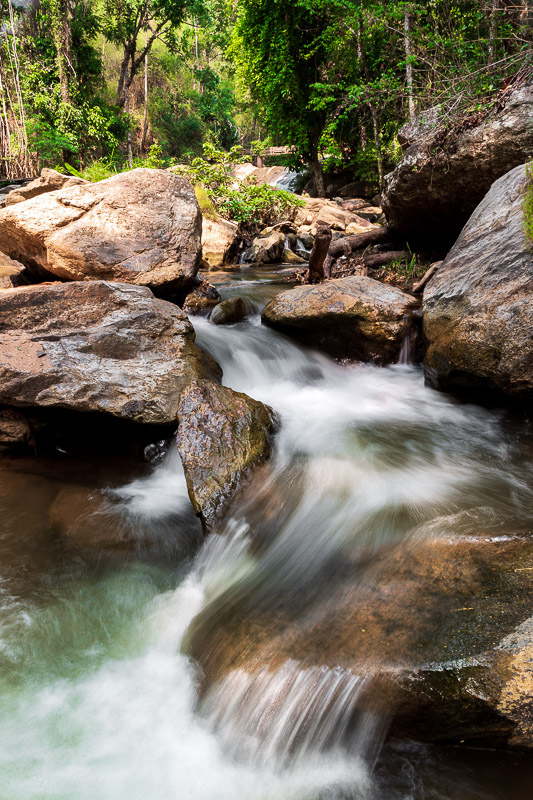 While six had a large shower like fall that would be brilliant to stand under to get cool while also being gently massaged by the falling water. Also, there was a pool under this fal,l great for all ages to paddle and stay cool. Although the water was free flowing it would be amazing to see in the rainy season. With more water flowing the cascades would be a truly awe-inspiring sight.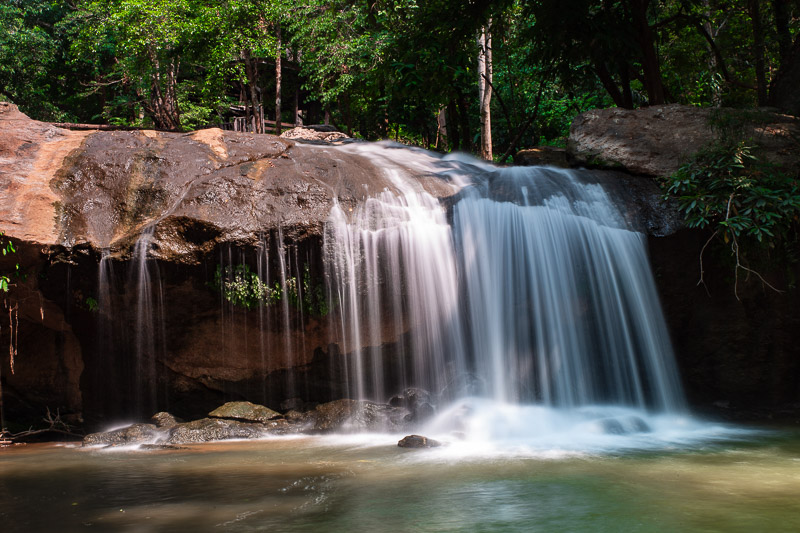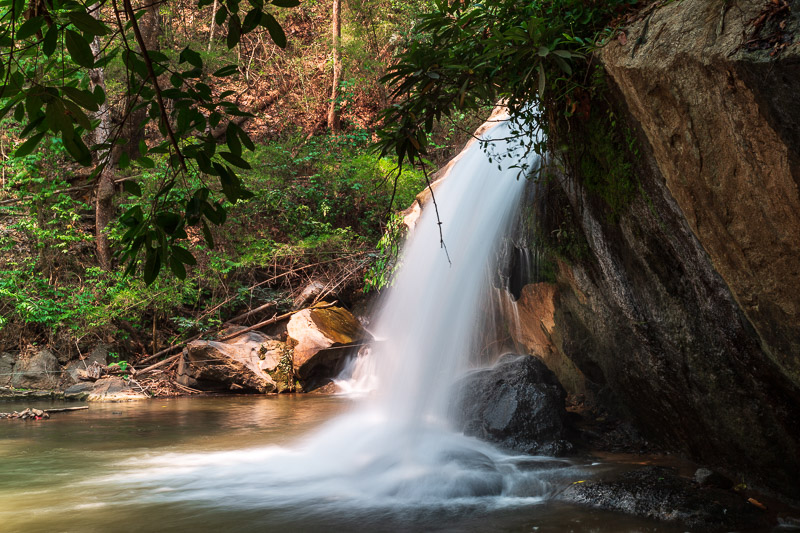 Mae Sa Waterfall is located approximately 22 kilometres north of the Old City of Chiang Mai. Head north along Hwy 107 from Chiang Mai. Turn left onto Hwy 1096, follow the road until you see the turnoff to Mae Sa Waterfall on your left. You will come to the entrance gates and will need to pay your entrance fee, For foreigners, it is 100 baht ($4.40 AUD) each and for a car its 30 baht (80 cents AUD). While it was a tad more than I expected to pay it was worth it for the lovely waterfalls. Overall, I had a great time scrambling over rocks and crossing flowing water to capture some lovely pictures on Mae Sa Waterfall. I would highly recommend spending a day out here if you are visiting Chiang Mai Thailand.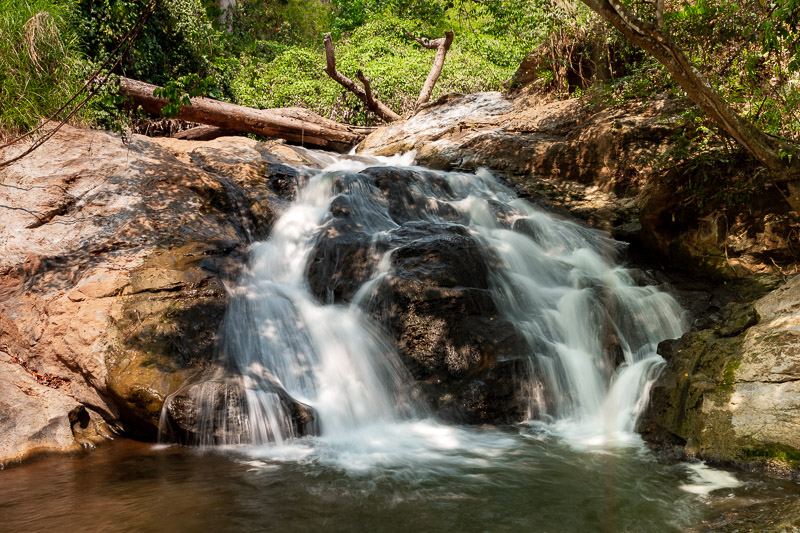 Join Us
We would love for you to follow our exciting journey by joining our friends list here on our website and following us on our social media pages below.
If you have any comments or questions we would love you to leave them below or email us.
Take care
Travel is Sweet (Dream It, Experience It, Treasure It)
Travel Tips
Find Your Flights
Skyscanner is a great tool for searching websites and airlines around the world to make sure you get the best available price possible.
Book Your Accommodation
Booking.com is our go to tool for booking hotels. It always gives us a large variety of hotels at great rates. We also use Airbnb as a wonderful alternative for those places you may want to go and live with the locals.
Always Get Travel Insurance
Travel insurance is a must and this is speaking from experience. Comprehensive protection will protect you against illness, injury, theft, accidents and cancellations. Just in case something goes wrong, heaven forbid. We never travel without it, having used it several times over the years. World Nomads have years of experience and knowledge to look after all your travel needs.
All images, photographs, and prints are exclusive property and may not be copied, downloaded, reproduced, transmitted, manipulated or used in any way without written permission of the photographer.
Disclosure: "Some of the links in this post are affiliate links. This means if you click on the link and purchase the item, I will receive an affiliate commission."
Please follow and like us: