Bristol Break
Having just completed our house sit in Aarau Switzerland, we head back to England for a short break in the city of Bristol. Arriving late in the evening we spend our first night at a lovely Airbnb just near Bristol airport. The lovely host picked us up from the airport and dropped us back to the airport, making things a lot more convenient.
On our arrival back at the airport we caught the Airport Flyer Express costing £7 per person. We arrived at Temple Meads Railway Station after approximately a 40 min bus ride. Ahead lay about an 800-metre walk to our accommodation for the next four nights. However, if you have been keeping up with our blogs you would know by now, we needed a coffee 😊. Guess what? Yes, there is a Starbucks just near the station. So, we head there for our morning coffee.
Bristol is freezing cold this morning, so we stay in Starbucks for a while to warm up and catch up on social media. We also plot our course to the hotel not wanting to be outside for longer than necessary. Opening the door to exit Starbucks, we are greeted by the frigid wind. Luckily, we have now learnt to dress appropriately, but the parts still exposed to the elements do feel it. After we book into our hotel, we are happily surprised at what a lovely room we have. One bedroom, bathroom, full kitchen, lounge room and washing machine greets us.
Carolyn has found a great hotel here, which we will appreciate for the next four days. We put on a load of washing and head down to the local Tesco's Express to stock up on some food items. Which will cover most of our meals while we are here.
Bristol Exploring
Now that we have completed the basic chores, we head out to explore Bristol. While the day is overcast, grey and cold it is not raining thankfully. First stop is just around the corner from our hotel St Mary Redcliffe Church. Having seen several churches from the outside we decide to venture in and to our surprise this one is free. We are greeted by a lovely lady and further on a gentleman.
They both give us information about the church and its history, very informative and interesting. The structure itself was amazing, to think how they moved these huge stones into position is mind boggling. Below in the bowels of the church we find the Arc Café run by people getting their lives back on track. So, we decide to have lunch here and support these lovely folks. We both enjoyed our meals while supporting a good cause.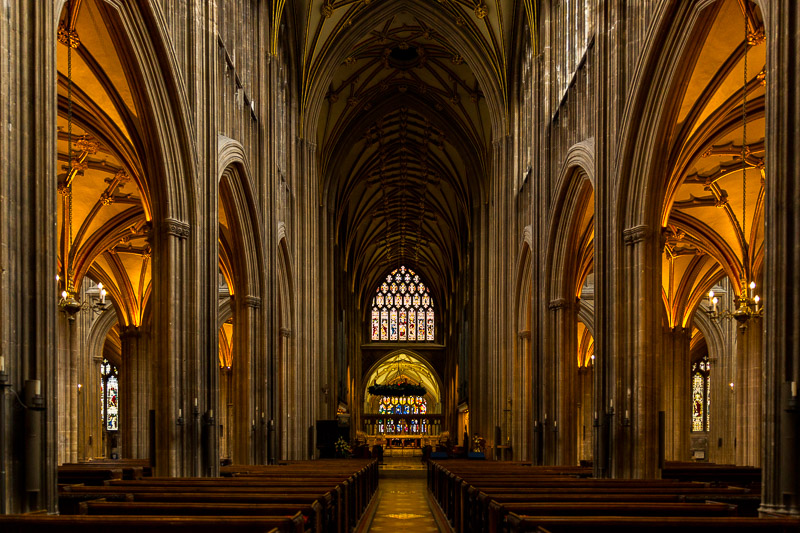 Next we walk the streets of Bristol taking in the sights, sounds and smells. Walking over cobbled stone streets that are centuries old.
Gazing on buildings that date back hundreds of years. Also seeing the pub that is said to have inspired Robert Louis Stevenson to write of Admiral Benbow Inn, in Treasure Island called the Llandoger Trow.
We also saw "The Nails" four bronze pedestals found on Corn Street outside the Corn Exchange building. These pedestals were used by merchants to negotiate deals.
When the deals were done, payment was made by placing cash on the pedestals. Hence the term "cash on the nail". If you haven't heard the term, join the queue we hadn't either 😊. Moving on we pass by St Mary le Port Church and the ruins of St Peters church. Both overlook the waterway that meanders its way through Bristol.
Bristol Gets Wet
By now the sky has turned an ominous dark grey and we know the rain is about to come bucketing down. So, what do we do? Head for the Starbucks across the road 😊. We hope to wait the rain out, but to no avail. Hence, we don all our gear with our semi water resistant coats and start the walk back to our hotel. Needless to say, we got a tad wet 😊, but that just adds to the fun of our trip. The next day we have a day trip planned to Bath. We catch the train from Temple Meads station to Bath a journey of about twenty minutes costing us £16 return per person. Bath is a lovely English town steeped in history dating back to the Romans. Known for its hot springs and roman baths.
Bath Awaits
Today with grey overcast skies, cold and rain certain we leave Bath train station and head for the city centre. We go via Bath Abbey, we see the outside of the Roman Baths, but we decided to save our money and not go in.
We did however buy Cornish Pasties from the Cornish Bakery and they were delicious. After finishing our pasties, we wander along the city streets heading towards The Crescent a famous arced street and houses in Bath.
Setting up my tripod and camera I take some shots to enable a panoramic view when stitched together. However, its starts to rain so I must move under a tree to keep the camera from getting wet. Having taken enough pictures and the rain has diminished to a mere mist we turn and head back to the main centre of Bath.
We meander through the city window shopping and realise even on such a dreary old day there is still a lot of people out.
They must be like us on holidays and taking whatever chance they have to see the sights. We reach the historic Pulteney Bridge built in 1774, lined with stores on both sides, it crosses the Avon River.
From the high side of the street we are able to see the Pulteney Weir and also the Parade Gardens.
Light drizzle has started again so we decided to call it a day and head back to the train station. On our way we stop into a bakery and purchase two pastries which we will eat while waiting for the train. Waiting on the station for our train we feel the cold via the frigid wind that is blowing. Looking forward to getting into a warm train.
Bristol Bathed in Sunshine
As the saying goes "make hay while the sun shines" and that is exactly what we are doing today as it is a glorious day. Firstly, we head to Millenium Square where we find a large mirrored dome and take the obligatory photo.
Also, there is a statue of Cary Grant who was born in Bristol a fact I didn't know. As it is still relatively early there are no coffee places are open and no Starbucks in sight ☹.
However, undeterred we head for Brandon Hill to see Cabot Tower. The walk turned into a bit of a trek with stairs and hills but after several catch your breath stops, we make it to the top. Where we are rewarded with a lovely view of Bristol.
The gardens are lovely, and lawns well kept. From here we head down to see the Bristol City Council building and Bristol Cathedral. The council building has been designed in arc configuration and is quite impressive. While the cathedral was lovely, we didn't go inside.
Continuing our exploration of Bristol, we walk through Queen Square and decide we need sustenance and after much deliberation chose Severnshed for lunch. While the food was OK it was expensive and it would have been better at Maccas lol.
By now we are tired from lots of walking we decide to head back to our hotel, do our laundry and start packing as tomorrow we head to Gloucester for our house sit with Cassie.
Bristol Conclusion
To summaries, our Bristol and Bath break has been very relaxing, we have very much enjoyed our time exploring what each city has to offer. So, even though the weather has been mostly overcast and rainy it hasn't ruined our stay. We are now realising that we may have a few more rainy days whilst in the UK 😊. I would highly recommend a visit of both Bristol and Bath if you get the chance. Who would have guessed that we would get wet in Bath lol.
Join Us
We would love for you to follow our exciting journey by joining our friends list here on our website and following us on our social media pages below.
If you have any comments or questions we would love you to leave them below or email us.
Take care
Travel is Sweet (Dream It, Experience It, Treasure It)
Travel Tips
Find Your Flights
Skyscanner is a great tool for searching websites and airlines around the world to make sure you get the best available price possible.
Book Your Accommodation
Booking.com is our go to tool for booking hotels. It always gives us a large variety of hotels at great rates. We also use Airbnb as a wonderful alternative for those places you may want to go and live with the locals.
Always Get Travel Insurance
Travel insurance is a must and this is speaking from experience. Comprehensive protection will protect you against illness, injury, theft, accidents and cancellations. Just in case something goes wrong, heaven forbid. We never travel without it, having used it several times over the years. World Nomads have years of experience and knowledge to look after all your travel needs.
All images, photographs, and prints are exclusive property and may not be copied, downloaded, reproduced, transmitted, manipulated or used in any way without written permission of the photographer.
Disclosure: "Some of the links in this post are affiliate links. This means if you click on the link and purchase the item, I will receive an affiliate commission."
Please follow and like us: