Queens Fish and Chip Bar Droitwich UK
Coming to the UK we had been told about the amazing fish and chips that were available. Hence, we were eager to try some having been away from home for over three months. However, after numerous attempts, we started to believe finding a shop that sold great fish and chips in the UK may be just a myth. Eventually, we came across Queens Fish and Chip Bar in Droitwich Spa. Finally, we had found a shop that served great fish and chips.
Upon entering there was a line up to order which is always a good sign of decent food. We had decided to order fish and chips also some potatoes scollops and scampi. The guys that served us were very nice and had a joke with us. Even though it was busy it didn't take too long for our order to come to our table. We were very surprised at the quality of the food and the portion size. The fish was very tasty, lovely batter and fish soft and flaky. The chips were cooked perfectly and tasty beautiful as were the potato scallops and scampi. We had actually ordered way too much food, we should have just ordered the fish and chips to share between the two of us.
Fish and Chips
As we ate we had a great conversation with the guys behind the counter about our travels and how good the food was. The price was not too bad, but if we hadn't of over-ordered then it was a reasonably priced meal. That was my fault 😊 my eyes are bigger than my stomach (just, lol). We enjoyed it so much we came back for another meal, this time just ordering the fish and chips and sharing it.
I would highly recommend having a meal here if you are ever around the area, you won't be disappointed. If we ever come back to Droitwich we will definitely stop in and get the fish and chips. Thanks, guys we really enjoyed the food and conversation. Below are their details.
Address: 13 Queen St, Droitwich WR9 8LA
Phone: 01905 797770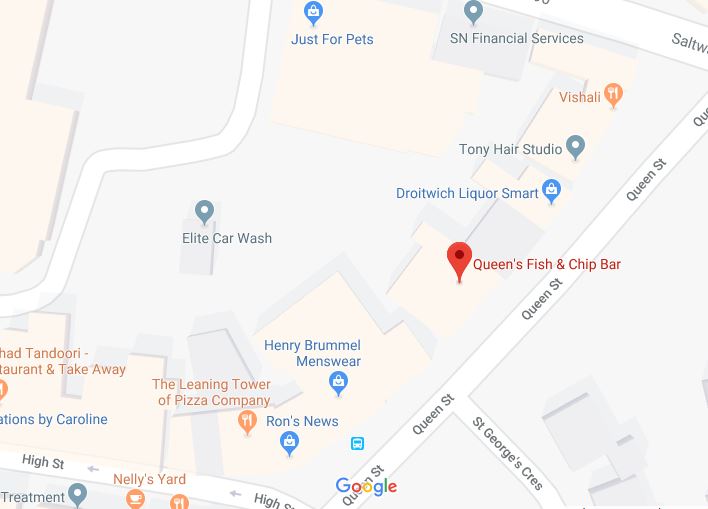 Join Us
We would love for you to follow our exciting journey by joining our friends list here on our website and following us on our social media pages below.
If you have any comments or questions we would love you to leave them below or email us.
Take care
Travel is Sweet (Dream It, Experience It, Treasure It)
Travel Tips
Find Your Flights
Skyscanner is a great tool for searching websites and airlines around the world to make sure you get the best available price possible.
Book Your Accommodation
Booking.com is our go to tool for booking hotels. It always gives us a large variety of hotels at great rates. We also use Airbnb as a wonderful alternative for those places you may want to go and live with the locals.
Always Get Travel Insurance
Travel insurance is a must and this is speaking from experience. Comprehensive protection will protect you against illness, injury, theft, accidents and cancellations. Just in case something goes wrong, heaven forbid. We never travel without it, having used it several times over the years. World Nomads have years of experience and knowledge to look after all your travel needs.
All images, photographs, and prints are exclusive property and may not be copied, downloaded, reproduced, transmitted, manipulated or used in any way without written permission of the photographer.
Disclosure: "Some of the links in this post are affiliate links. This means if you click on the link and purchase the item, I will receive an affiliate commission."
Please follow and like us: